Chris is an English expat that has been living in Bordeaux for a few years. You may have read some of his articles on this blog and now it's time to put a face to this beer-swilling and well-researched wordsmith.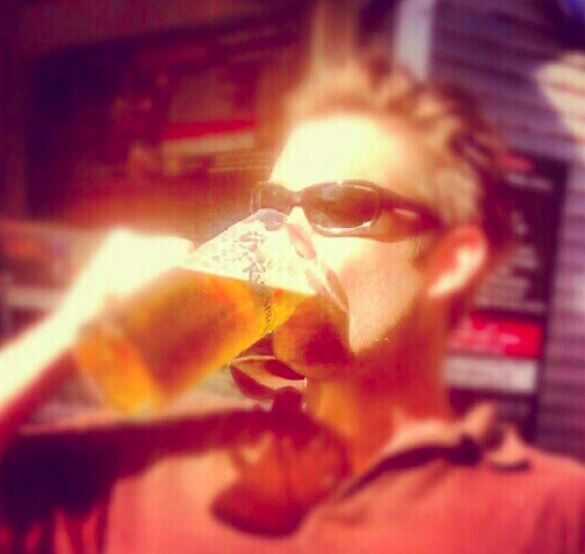 1. Where are you originally from?
I grew up in Amersham, just outside London. It's in the Chilterns and had the perfect balance of town and countryside. As it's on the Metropolitan line we could all get up to London quite easily which was perfect for hanging out on Carnaby St with our DM boots and bottles of Strongbow.
2. Where are you living at the moment?
We are renting a place off rue Judaique.. To be honest it's the perfect location – within 5 mins walk we have Meriadeck, the mediateque, the tram, piscine Judaique (one of the only Olympic size pools in the SW), the 3bs and at least 5 pubs. The only trouble are all the drunk students running around shouting at night and waking us and the baby up.
3. How long have you lived in the region?
We moved down from Paris about 3 years ago in search of a better lifestyle. But I came through Bordeaux in 2004 when I was cycling across France. Back then the whole town centre was buried in roadworks and everyone kept saying "come back in 7/8 years when everything's finished". Here we are.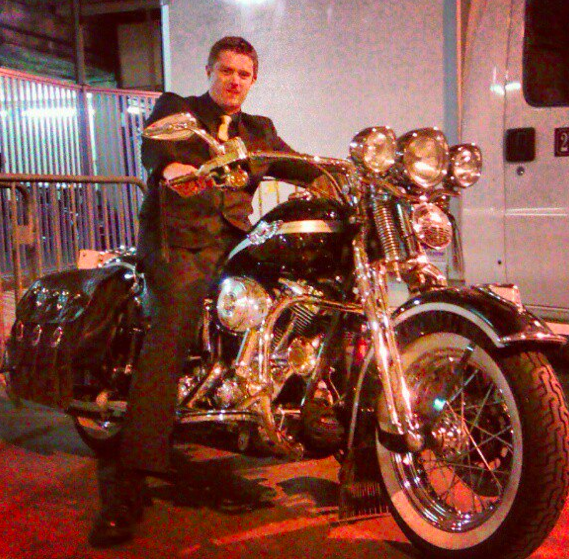 4. Why did you move to France and why did you choose Bordeaux?
I met the missus in London and we were both working crazy hours and paying extortionate amounts of hard earned cash on rent, bills, food, travel and nightlife. We figured there had to be more to life than being crushed on the rainy rush hour commute to work especially as we were looking to raise a family. Since I'd already done seasons in the Alps and on the Med, worked for the AA in Lyon and spent a year teaching in Toulouse we set our sites on France and le Grand Sud Ouest. After moving to Paris in 2010, I started reasearching different cities like Toulouse and Bordeaux and we did a couple of weekend trips to various places. I also got the opinions of everyone I was working with in various companies such as IBM, Eurosport, Canal + and a handful of law and pharma firms. All signs were pointing to Bordeaux and once we started looking at all the amazing things Juppé and the mairie have been developing and planning the decision was made.
5. What do you wish you knew before moving here?
I went auto-entrepreneur as a translator in 2012 and should have done it way earlier. Having the independant status meant that companies were willing work with me straight away as they didn't have to pay charges to take me on. Once your foot is in the door in Bordeaux you can start networking like mad and working your way up. It also helps being fluent in French and having a French missus to help you navigate the system!


6. Did you find it easy finding accommodation when you first moved here?
We had an adventure on our first attempt down from Paris flathunting and almost folded the whole project. It was a Friday and we started at Direct Location, Pey Berland. Without realising the whole 'list scam' thing we were asked for €200 up front by the agency for a list of potentially available flats (being the holiday weekend most tenants weren't in town anyway!). We did a runner and set up shop in Macdonalds rue Ste Catherine as they had WiFi and began looking through Le Bon Coin etc. After some scary flat visits with various weirdos we more or less packed it in and went to the Blarney Stone for commiseration pints before our train home. On the second beer my wife suddenly saw a flat advert that had just gone live. We phoned them up straight away and ran over to visit the place. We immediately hit it off with the flat tenants and offered an up front cash deposit. When they asked if we had CDI jobs lined up the answer was obviously "YES"! The deal was done two weeks later and those guys are now out best mates here in Bordeaux.
7. What do you do for a living?
I work for an international company as a French English translator and proofreader. I have been in the translation game for years so have hit the ground running. There are however tons of new technical terms and processes to learn so have been working hard to get on top of everything.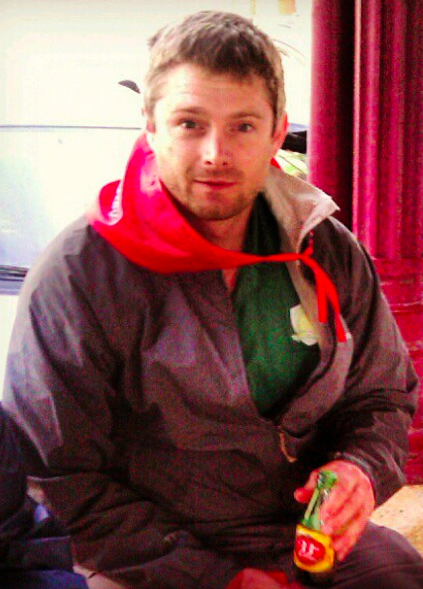 8. Was it easy finding work?
As I already mentioned, the key to working in France is speaking the lingo then it's network network network contacts contacts contacts. Bordeaux is rapidly becoming an international city in terms of Oenotourism and MICE (Meetings, Incentives, Conferences and Events) as well as sectors such as Aeronautic, Maritime, Pharma, Agriculture and IT. Hopefully the development planned for the future (Rive-Droite, Euratlantic etc) will open up more opportunities for English speakers.
9. Has it been easy meeting people?
We have kind of avoided the expat communities working in the pubs so most of our mates are French who we've met through work. The wife works at the Montessori school in Chartrons so gets to meet loads of expat parents which is handy. I also went along to the Bordeaux-USA club in Quinconces recently and they are all super cool and friendly. They have a pot luck followed by a guest talk every Thusday night and are keen to recruit expats of all ages and backgrounds so that's a great way to meet people. Aside from that there are tons of sports clubs and associations – the key is getting out and about.
10. Did you already know French?
I studied French at Uni and immediately moved to France when I graduated in '99 so was straight in at the deep end. My first job was washing pots in Morzine surrounded by psychotic chefs with big knives so had to get the French going fairly quickly. I later worked in pubs in Lyon and for AA international assistance which was a bilingual job. We were helping Brits who had broken down all over France so had to phone up dodgy mechnics at four in the morning and beg them to get out of bed to go and rescue our AA customers lost in the wilderness.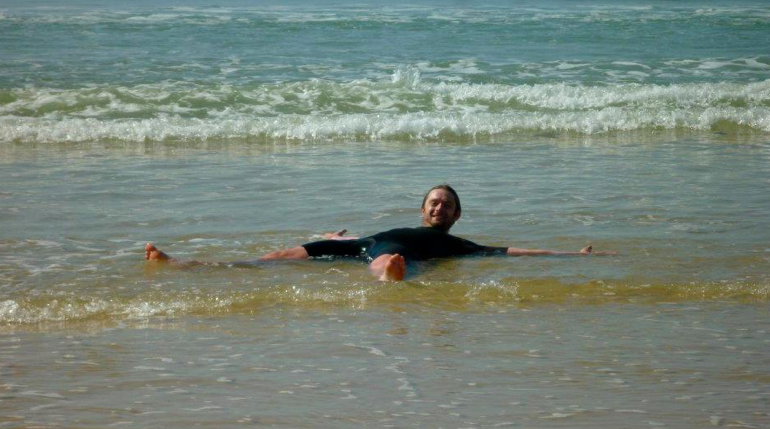 11. How do you find the cost of living/lifestyle in Bordeaux?
Compared to London or Paris, Bordeaux is cheap. Once you know your way around town there are plenty of shopping deals to be found as well as cheap nights out. House prices are rising all the time though and we're keen to get on the ladder ASAP especially before the new LGV gets on the horizon. As for the lifestyle – Bassin d'Arcachon 45mins, Lacanau 1hour, Dordogne 1hour, Spain + Pays Basque 2hours, Pyrenees 2hours; vinyards everywhere, a gorgeous picture postcard city centre and the most Anglo/Irish pubs per capita outside the UK – Who's complaining?!!
12. What's the best thing to do in Bordeaux on a summers day?
I've always been a huge fan of the St Aubin, Place Victoire. The happy hour's from 6-9pm – pints from €3.50 and a bowl of homemade chips is €2. On a hot summers day you can kick back in the sunshine with a cold one and are perfectly placed to get to Rue Ste Catherine, Place des Capucins or Fernand Lafargue. For matches they also have about 10 screens and there's always a decent atmosphere.
13. What's the best thing to do in Bordeaux on a rainy day?
Unfortunately it does indeed rain a lot in BDX. Utopia is always a good bet as are the tea/board game cafes and many a Saturday afternoon has been spent at the 3bs playing pool and darts. Otherwise I like to get over to the mediateque to research and write blogs about Bordeaux or get down the pool.
14. What are the positives of living here?
Bordeaux is large enough to give plenty of variety for going out and shopping but small enough to keep its local feel and get around on foot. The tram and quais are fantastic and compared to Paris and London, Bordeaux feels like Disneyland here in terms of the low crime/dodgyness rate. There are the highest number of restaurants per capita in France and plenty of world cuisine (such as the awesome Brazilian, Carioca we went to last night). The youth scene is also buzzing with all new bars and cafes springing up everywhere. Pick up a copy of Junk Page at the Apollo or the TNBA to get the local heads up and have a look at the Bordeaux Pas Cher web and Cubeek websites…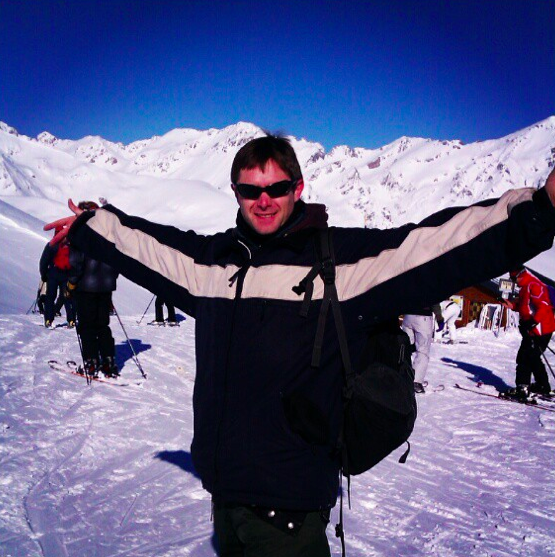 15. What are the negatives of living here?
Call me an old man but being repeatedly woken up on any given night by drunk students screaming at 4am is starting to get a little bit taxing. It would also be good if cars were more friendly to cyclists, although Bordeaux has come on leaps and bounds with its cycle lanes.
16. Are you involved with any groups / associations / teams, etc?
I was a member of the St Bruno swimming club last year which sorted my fitness out. I also got invited to join the 3b darts team but it never materialised! Once the baby gets a bit older we plan to get along to the USA club and start meeting more young parents.
17. Do you have a business / website / blog?
I was in the process of doing a website for my freelance translation business but landed a CDI instead. As for blogs, I've guested a few articles on this site and published one in January about the Brasserie de l'Aquitaine for Invisible Bordeaux.
18. Any closing comments?
We chose to come here in search of a better quality of life without knowing anyone or having any family here. Effectively starting from zero it's been a fair challenge to get set up but with tons of hard graft and cold beers it looks like we've kind of made it. Bordeaux is a gorgeous city with so much potential and is expanding fast. In the next five years or so with all the projects underway it could well become one of the top cities in Europe to raise a family. Can't wait!