Summer Accommodation – Central Bordeaux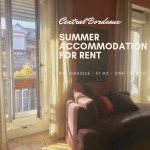 Summer Accommodation – Central Bordeaux
Fully Furnished Apartment available to rent from 28 June to the 25 August, 2019.
57 square metres
800€ per month (1600€ total)
My one bedroom apartment is on the second floor of a 16th C renovated building and has the charm of the renowned older Bordeaux stone architecture.
It is in the centre of Bordeaux and a few minutes from the magnificent 11th Century St Seurin  Basilica. I have never needed a car in Bordeaux and it is an easy and pleasant stroll to the centre of the city.
Post office, banks, swimming pool and public car park etc are of very easy access.
The particular suburb of St Seurin boasts a choice of intimate little bars, an English pub and many fantastic restaurants – Classic French, Chinese, Creole, Japanese, bio-French, Italian etc.
The apartment has a quiet bedroom with a double bed and in the  living room there is a very comfortable couch where one could also sleep (often been used for this!) There is a private bathroom off the bedroom with a shower and toilet. There is a large kitchen with a dining table, washing machine, fridge etc. This leads into a large, sunny and comfortable  living room with a desk and couch.
The apartment would be equipped with: WIFI, an electric fan for the anticipated heat of summer,  smoke alarm, towels, bed linen, basic first aid and basics for the kitchen. Eg cooking oil, salt, pepper, spices etc. You may also have the use of my bicycle which is on the ground floor in a secure communal area for bikes and rubbish bins.
The apartment is secure with two locks on the street door and also the apartment entrance door.
There are some aspects to the apartment and I would  strongly wish and meeting with the potential renter to explain these – the rubbish collection days  and of course an agreement that any damaged goods be replaced or mended.
Send Message to listing owner
Summer Accommodation – Central Bordeaux