OTHER LOCATIONS
WHERE TO LIVE IN BORDEAUX? – BÈGLES
A true urban village, Bègles is in constant motion with the community modernising and growing greatly over the past few years.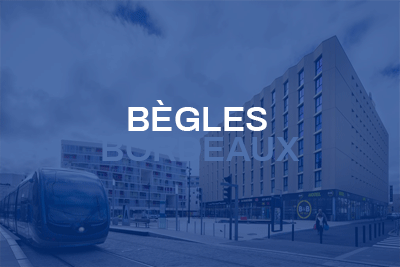 The municipality sits on the left bank of the river Garonne and moves inland to the East. Bordering neighbourhoods include, Villenave d'Ornon to the South, Talence to the West and Bordeaux CBD directly to the North.
The development of this commune has seen new neighbourhoods emerge and many renovations of traditional Bordelaise échoppes being a driving force for bringing new residents to the area. Along with business and local commerce development, the suburb offers a great inner city living option.
Strategically located, Bègles benefits from a close proximity of excellent transport networks.
Railway: Bègles train station is in the south of the town and with Bordeaux Saint-Jean station only 5 minutes away
Tramway: line C crosses from north to south of the town
Airport: Bordeaux-Mérignac airport is located 15 minutes away
Roads and motorway: direct access to the ring road and highways to major cities (Toulouse, Paris, Lyon…)
With a growing younger population, the town is well severed with childcare, school and sporting facilities. The city also is the official home to Bordeaux's professional rugby team, the Union Bordeaux Bègles.
EDUCATION
8 crèches
7 public nursery schools,
6 public elementary schools + 2 private schools,
2 colleges,
1 professional high school,
1 high school – Václav Havel