The luminously lovely indie folk-tronic duo CocoRosie consists of the Casady sisters, vocalist/guitarist/harpist Sierra and vocalist/percussionist Bianca. Their music has been called "freak folk", and incorporates elements of pop, blues, opera, electronica, and hip hop.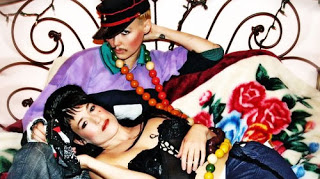 CocoRosie (who are from the States) were originally a duo, with Sierra singing, playing the guitar, piano and harp, and Bianca singing and manipulating various children's toys, electronic and percussion instruments, as well as other exotic noisemakers. They subsequently added various backing musicians at live shows, usually a bassist, synth player and beatboxer.
They have been a very active touring group, playing across Europe, the United States, and elsewhere. They have released four full-length albums: La maison de mon rêve (2004), Noah's Ark (2005), The Adventures of Ghosthorse and Stillborn (2007), and Grey Oceans (2010).
You can catch the girls in action this Tuesday 25th May at the 4SANS, they will be suported by Diane Cluck (USA).
When: Tuesday 25th May, 2010 @ 8:30pm
Where: Le 4SANS, 40 Rue d'Armagnac, 33800 Bordeaux
Cost: €24