The exhibition presents for the first time about 15 monumental pictures that have been painted by the artist Jim Shaw in the last decade, together with sculptures and a gigantic inflatable sculpture. It also presents for the first time the artist's collection of Christian objects making use of apocalyptic iconography. From If Everybody had an Ocean. Brian Wilson, an exhibition (curated by Alex Farquharson), which took a fresh look at different art developments from the 1960s on through the prism of the life and music of the Beach Boys' composer, to Insiders – Pratiques, usages, savoir-faire/Experience, Practices, Know-how, an exhibition in the form of an investigation into the links between contemporary artwork and folklore today, the CAPC musée d'art contemporain is continuing to delve into the realm of subculture with this solo show devoted to the artist Jim Shaw.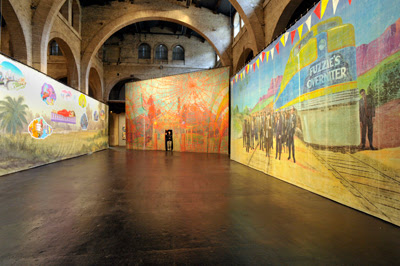 Painting, drawing, sculpture, video, installation and performance are all media used by this American artist since the late 1970s, helping him to put across an encyclopaedic and hectic vision. Jim Shaw is an atypical figure in California's art circles, sharing with Paul McCarthy and Mike Kelley the same desire to produce a visual body of work aimed at exploring the dark side of an American society that is conformist and standardized. Jim Shaw draws his inspiration from a vernacular culture on this side of the pigeonholes established by art history: pictures by amateur artists unearthed in bric-à-brac stores, popular cult objects, comics, rock music, B movies, etc.
After putting together a collection of more than 400 canvases by 'visionary' Sunday painters (Thrift Store Paintings), and after drawing his dreams (Dreams) for more than ten years, since 2002 the artist has been involved with a project to do with inventing a religion which recycles the country's ground-breaking myths and various crypto-sectarian American beliefs (Oism).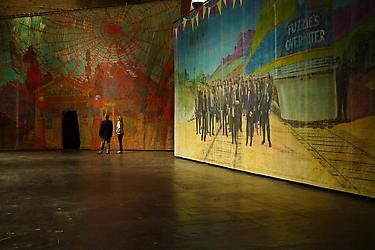 For his exhibition in Bordeaux, the artist is showing his latest output, consisting of some fifteen monumental pictures accompanied by sculptures in the museum's nave. In outmoded cityscapes from old theatre sets, the forms painted by the artist seem to float, apparition-like. Inspired by William Burroughs's cut-up technique, Shaw here offers a vision of schizoid America, somewhere between dream and nightmare. As an accumulation of moments of a personal history and bits and pieces of a collective cultural history, the heterogeneity of the illustrative sources is both surprising and intriguing: episodes from the artist's life, iconic symbols of American culture, references from modern art history, biblical imagery, Hollywood imagery, political and media personalities, depictions of consumerism, visions of 9/11.
To this is added their equally as disparate stylistic treatment, mixing different visual languages: modernist abstraction, cinematic hyperrealism, western imagery, and advertisements from the 1950s, along with a diagrammatic treatment of the comic strip and Hollywood movies. Distortion, fragmentation and multiplication all bolster the impression of deliquescence, and the sensation of a world that doesn't make sense.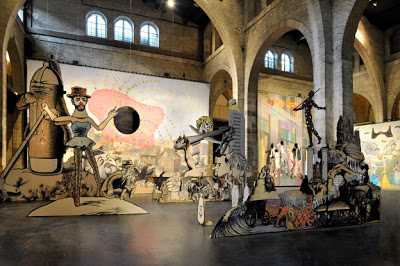 For several years now, fascinated as he is by millenarian movements preaching the end of the world, the artist has been collecting objects making use of apocalyptic iconography. This collection is on view for the first time in the CAPC exhibition.
This is specific to the core aspect of the "Left Behind" series : as Jim Shaw said, it is about "the death of the labor movement due to Reaganism and globalization and their displacement by duped born again Christians, as well as the burial of the New Deal era small town capitalism, replaced by the casino capitalism of the 00s."
When: Until the 19th September, 2010
Where: CAPC Musée d'Art Contemporain, 7 Rue Ferrère, 33000 Bordeaux
Cost: €5.00