Have you ever looked out onto the wide and arcing river that is the Garonne and ever thought to yourself… 'I would love to skim across that water and see the sites the way things should been seen. Speeding along on my very own Jet Ski'?
Well, the good news is that it's now possible!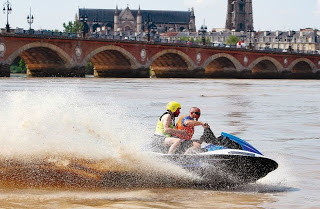 Set up by a Franco-British couple in 2010, Bordeaux-Jet offers their clients a choice of different excursions ranging from a 15min ride to a full day 100+km ride along the Garonne.
Prices range from €50 to €350 and is suitable for adults and children 10 years and up.
All outings are supervised by a fully trained monitor and can either be tandem or solo piloting. All excursions leave from the old city of Lormont, just under the Pont d'aquitaine.
When: June until it gets cold!? 9:30am – 7pm
Where: Place Aristide Briand, 33310 Lormont
Cost: €50 to €350
Phone: +33 (0) 638 448 6.74
Email: bordeauxjet@gmail.com
Technorati: SZYY4EGMHZ23