Imagine Jimi Hendrix, the MC5 and the Kills all on the one stage and all for free!!
In accordance with the Festival Relâche organised by Allez les Filles, there will be another free concert taking place at the skate park in the Chartrons.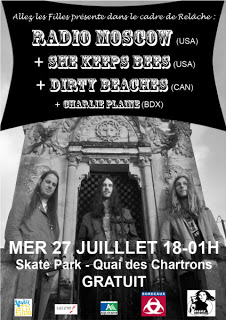 Headliners are Radio Moscow, She Keeps Bees, Dirty Beaches and Charlie Plaine.
Radio Moscow (USA)
Radio Moscow are an explosive trio that play an electric style of blues-rock. Mixing elements from Hendrix, Cream and the MC5, their music could be mistaken for being written back in that golden era between 63 to 73.
With mind-blowing guitar solos and a cosmic groove, Radio Moscow get your feet stomping.
She Keeps Bees (USA)
From Brooklyn, NY, this boy-girl duo make a raunchy racket with their rough-and-ready blues-rock. She Keeps Bees are a bass-less boy/girl duo, who do their recording in their bedroom, in an apartment block with pigeons, with just a computer and a microphone.
Alex Zhang Hungtai's is known to most as the one-man band Dirty Beaches. He appears to have created his very own genre of rock: amplifier and brimstone.With his electric guitar, a microphone whose effects give his vocals a seedy, sinister tone and pedals to build one guitar loop over another, Dirty Beaches occasionally resembled a deranged preacher.
When: Wednesday 27th July @ 6pm
Where: Skate Park, Quai des Chartrons, 33000 Bordeaux
Cost: Free!!