Evento 2011 is a multidisciplinary event for all audiences, bringing together artistic projects by almost eighty local and international artists of 22 different nationalities.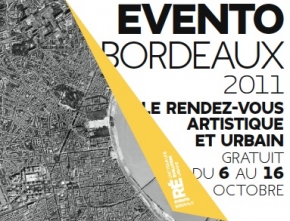 Art for an urban re-evolution: a city-scaled theme. As artistic director of EVENTO 2011, the Italian artist and philosopher Michelangelo Pistoletto has chosen to include the local inhabitants and visitors in the production of ideas and creative projects at the heart of the city, thereby illustrating his conviction that art must be a central feature in a social and sensible transformation.
Every two years, EVENTO offers international artists an chance to cast a new eye over the city, explore it and turn it into an atypical place of artistic experimentation. This 2011 festival is thus bringing together famous and emerging figures, for a free event that is demanding, generous, multicultural, and designed for all kinds of public keen to discover and share.
EVENTS:
ROOTS
The "Roots" project is made up of three exhibitions, on view from October 2011 to February 2012, which illustrate the creative context chosen by the artistic direction for EVENTO 2011, so as to embark on its "urban re-evolution". The artists invited here cast an eye over Bordeaux's historical, artistic and urban upheavals and goings-on. Read more…
THE SHARED KNOWLEDGE SITE
At the hub of EVENTO 2011, the sites represent an open and shared laboratory for artistic creation. They are run by international artists invited to work together with volunteer citizens and specialists in various disciplines. Read more…
MOBILE SITE
The Mobile Site, an art project supported by a travelling and autonomous unit, is a laboratory of social and urban exploration, investigating and gathering practices, discussions and representations which surround the concept of urban re-evolution being promoted by EVENTO 2011. Read more…
EVENTS
In inviting every kind of public to take part in a series of artistic events, concerts, installations, and theatrical and musical performances will all be intermingled with meetings and discussions organized by current figures in literature, urbanism, economics and politics. Read more…
For a full listing check their agenda by clicking here.
Where: Bordeaux City
When: 6 to 16 October 2011
Cost: See website


www.evento2011.com