The cultural project BDX-LAX from Flash aims to link, support, and promote Bordeaux contemporary and urban art scene, facilitating exchanges between Bordeaux and Los Angeles (twin cities since 1964).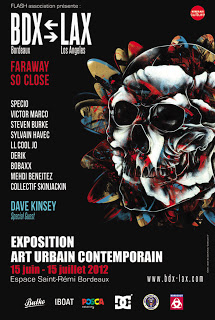 BDX-LAX aims to be the link between artists with common influences (graffiti, street art, Comics underground, freestyle,) as a unique gathering point for a strong and alternative cultural scene, effervescent, often not visible, with multiple artistic scopes.
OPENING EXHIBITION
June 15 – 6/9 pm – Saint-Remi Space
Opening of the exhibition, video projection, happening by Skinjackin, surprises, cocktail party & music by DJ Kubik.
With : Dave Kinsey, Victor Marco, Specio, Derik, Bobaxx, Steven Burke, LLcool Jo, Sylvain Havec, Mehdi Beneitez and the collective Skinjakin.
AFTER SHOW
June 15 – from 11 pm – IBOAT
Discovery of the mural painting realized by the artists BDX LAX, video projection by LLCool Jo and happenning by Skinjackin.
Outside Bar : Set by DJ Kubik.
Club : special guest the label ED BANGER feat DJ FEADZ + Live KRAZY BALDHEAD.
CHILDREN WORKSHOPS
June the 20th & the 27th – IBOAT
Urban Art workshop with Skinjackin and our partner POSCA.
Initiation via the realization of a wall collective work and short-lived tattoos " drawing, calligraphic approach, techniques of construction of simple letterings, put in color, work of composition ".
For the children from 6 to 10 years old / From 2:30 pm till 4:30 pm.
Incriptions by e-mail programmation@iboat.eu or by phone: 05 56 10 48 23
For more info, visit: www.bdx-lax.fr