By Tracey Farrell
Tracey is an Irish expat that has lived in Bordeaux for 10 years. She is the founder of Yogavita: Corporate Yoga, City yoga and yoga for children!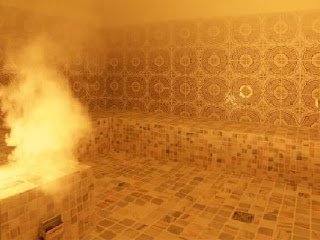 On a recent trip to Norway, I had expected to find saunas everywhere until one Norwegian quickly corrected me, no that's in Finland. I don't give up easily and managed to find a place up North where there was a sauna. Perfect place to warm up and relax before chasing the Northern Lights. Most cultures around the world have their own version of a sweat bath. To name but a few: Onsen in Japan, The Hammam in North Africa,and the Finnish bath, the sauna.
Loving this "bathing culture" I couldn't have chosen a better country than Japan where I taught English for a year at the age of 21. The "onsen" hot springs were a common Sunday outing. Bathing in an onsen overlooking the snowy hills was one of my most memorable experiences. A few years ago my Irish friends met up in Brussels to celebrate St Patrick's day. The day after we met at the local hammam. A brightly lit, white-tiled space where we had very rough body scrubs , it wasn't quite Japan or Istanbul. We laughed for hours after.
What are the benefits? Saunas relieve stress: a warm, quiet space without any distractions coming from the outside. The heat from the sauna relaxes the body's muscles, improves circulation and stimulates the release of endorphins. Saunas relax muscles and soothe aches/pains in both muscles and joints. Saunas flush toxins, cleanse the skin and can induce a deeper sleep. Saunas are a relaxing environment for socializing. It's also the perfect place to do some yoga poses, try garudasana,the eagle, Badda Konasana, the butterfly, Arda Matseyendrasana, a seated spinal twist. You'll come out feeling and looking good.
Two of my favourite spots in Bordeaux:
The Art-Deco swimming pool- hammam in Begles. The full price is 4 euros for the swimming pool and steam room (other cheaper rates are available). The hammam is quite simply decorated. It's convivial, clean and cheap. The 1930's building is very pleasing to the eye.
Piscine Municipale de Bègles "Les Bains"
16 Rue I et F Joliot Curie, 33130 Bègles
www.mairie-begles.fr
The Hammam d'orient on the right bank costs about 33 euros for the hammam and "gommage" peeling. Oriental carpets, smells, hammam, sauna and massage tables and very welcoming staff. Once you've sweated, scrubbed, relax with a traditional mint tea. It's exotic, warm and you come out feeling great!
Hammam d'orient
111 Rue de la Benauge
33100 Bordeaux
www.hammamdorient.com
Perfect for a relaxing, wintry evening, !
Tracey
www.yogavita.fr