A Bordeaux Artist in the Spotlight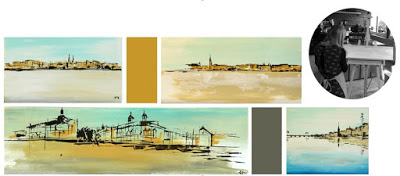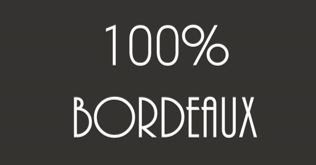 100% Bordeaux
by Art Kelly Allison is a collection of contemporary urban paintings soon to be featured in one of Bordeaux's gastronomic restaurants 'Le M de Monbadon'. With Bordeaux in the spotlight this year, following Lonely Planet's recent ranking, this collection intends to share with visitors and the 'Bordelais' alike, the beauty of this city. Designed and painted in Bordeaux, the artist takes inspiration from the Bordeaux skylines, cityscapes and reflections.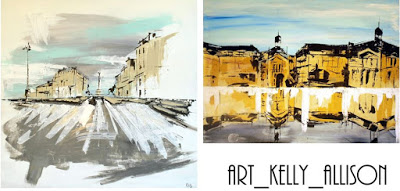 About the artist and upcoming projects

Bordeaux has been my adoptive city since 2009. Originally from Canada, I have been travelling and living abroad for the past 18 years.
I have been weaving in and out of art and design since a young age; my paints and brushes have followed me throughout. I have a degree in architecture and studied in Canada, the UK and Sweden. After some years working in architecture, I decided to shift my focus from buildings to people, and so furthered my studies in cultural awareness and language training. For the past 8 years I have been working in this domain; coaching the young and old in a multitude of environments.
I guess somehow, the built world has resurfaced for me, and my paintings are the result. This city, I now call home, is depicted on canvas with the use of acrylic paint and painting knives. Bordeaux inspires me; the elegance, the light, the historical footprint and the emergence of a cosmopolitan environment. I cycle through the city, taking in the streets and then transcribe them on canvas.

Following the upcoming exhibition in 'Le M', I have other showings in the new year in some medical clinics, hotel and office spaces. I have various art competitions lined up and am in the process of launching my online shop for print orders. All original paintings are currently for sale. Prices are listed on the website. For more information please don't hesitate to contact me! I'd be happy to hear from you!
Kelly Allison