The Trouble Notes are a multi national, Indie World Fusion trio, who cross the entirety of the musical spectrum, creating a sound that is truly unique to its own.
Based out of Berlin, this group consisting of an electric violin, acoustic guitar and cajón hand drum. Flutter across melodic tones and syncopated rhythms to produce a sound that a modern day Django Reinhardt and Stephane Grappelli would be proud to collaborate with.
Bordeaux Expats sits down for a quick chat with these treble notes known as the Trouble Notes.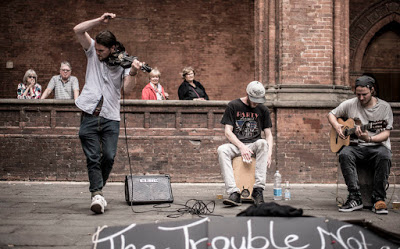 Where have you come from this tour and where are you going?
This year we released our first full album, "Lose Your Ties", and immediately took it out on the road. So far we've stayed mostly in Europe, touring Germany, Belgium, France, and Italy. This summer we have a really full schedule around Europe with festivals all over the continent and then this fall we jet over to North America for a two month tour. After that, we'll have to start working on the next album 😀
What music influences and artists do you have?
Our musical influences come from all over the place. Rodrigo y Gabriela have probably been the biggest inspiration for us in shaping our style and professional approach. However, it's impossible to point to one place because our mission is to connect different cultures by mixing their musical styles, so we draw a lot of inspiration from traditional music from different cultures.
What are your musical backgrounds?
Bennet is a classical trained violinist from age 4. Oliver started drumming at a young age (his godfather was the drummer in Motorhead so you could say he's always been a rhythm man). Florian has been a music lover his whole life, studying guitar in his teenage years and studied to be an audio engineer. He actually met Ollie and Bennet as a recording engineer first, later bringing his axe to the group.
How would your describe your music to those who have not heard you before?
Music for Travel. We want to bridge cultural divides by mixing traditional musical styles from all over the world and bring the listener on a journey without ever leaving the room!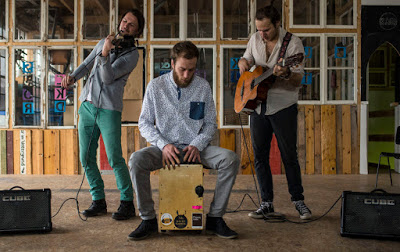 So, you are from mixed nationalities (American, German & English) does this dynamic contribute to the creative process or is music the universal language/culture?
We feel our group is a bit of a cultural chameleon. Sure we were raised in different places and cultures, but the goal has always been to connect different cultures and traditions while traveling. It's one of the main reasons we have chosen to remain instrumental, so that we can speak that universal language of music and keep all doors open.
You've toured extensively racking up over more than 400 shows. How have you seen yourselves grow musically and personally?
With each new place we explore, our music develops. Our ears are always open to new styles that we can blend into our repertoire. As human beings we have always grown. Much like our music, our personal cultures have become a blend of different places. We have been able to pick and choose different traditions and mind-sets from various cultures we have experienced and make them our own, plus we're more understanding of different views.
Travelling and living abroad, what impact does this have on your outlook on your work and life?
Experiencing different points of view helps you constantly re-evaluate your own outlook on life.
Best experience from this tour so far?
With us most of the tours are memorable by the people we build close relationships with. Every tour there are a handful of "Trouble Makers" that make appearances. Those are people who we build a very close, strong connection with. They do things like open their homes to us, or bend over backwards to show us a warm welcome in their town, all in return for our music. That strong core continues to grown and it remains the strength of our group and why we continue to tour and travel the way that we do.
Worst experience from this tour so far?
Our van was broken into in Milan. Nothing too valuable was taken since we try not to leave things in the car, but it's impossible to take out everything all the time, so we did have some gifts that we had bought for family and friends lifted. It's something that seems to happen all too often to touring musicians. While most times we encounter the best of people on the road, it serves as a bit of a reminder that there are some really selfish people out there.
Any parting comments?
We have heard great things about Bordeaux and are really looking forward to finally being able to explore this city.

The Trouble Notes are playing in Bordeax this Thursday.

WHEN: Thursday 3rd May, 2018 @ 20h
WHERE: La Voûte, 1 place des capucins, 33800 Bordeaux, France