This coming Sunday will be the first home game for the Bordeaux Giscours Cricket Club against Dreux.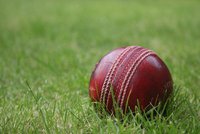 The lads will be keen to claw one back after their first and second round defeat two weeks ago.
The famous open barbecue is available during the game. Bring your meat, picnic etc.
Different wines available per glass against affordable rates.
When: Sunday 25th April @ 12:00 – 18:00

Location: Château Giscours, 10, route de Giscours, 33460 Labarde
http://www.bordeauxcricket.org/
Facebook
______________________________________________
Match Report (courtesy of Neil Vasey):
Super League Rounds 1 & 2 – Sat 10 & Sun 11 April
SL Round 1: Sat 10 April v CCSB95 at Chantilly Cricket & Polo Club
CCSB won the toss and elected to field
Bdx Giscours: 192 for 7 from 40 overs
CCSB95: 194 for 8 from 39.3 overs
A frustrating start to the SL for Bordeaux Giscours CC as this game was well within our …grasp after a decent batting perfomance. However, below-par fielding & catching and some very erratic bowling (38 wides…) let CCSB95 into the game. This was one that got away…
SL Round 2: Sun 11 April v USCA at Parc de Vincennes
USCA won the toss and elected to bat
USCA 339 for 9 from 40 overs
Bdx Giscours 144 all out after 33 overs
The atrocious outfield didn't make our job any easier but a near shambolic fielding and bowling performance meant that the game was beyond our reach at a very early stage. This was one to forget..