Deep Street Soul are a Funk & Soul group from Melbourne, Australia. They formed in early 2006 with the simple aim of recapturing some old skool southern flavors they'd DJ'd over the previous decade. Inspired by the breakout of nufunk throughout Europe & the States (not forgetting Osaka Monaurail and Australia's own – The Bamboos) they hit the clubs. Starting with an initial batch of Booker T & Meter's covers, these quickly morphed into their own set of raw break filled funk & soul.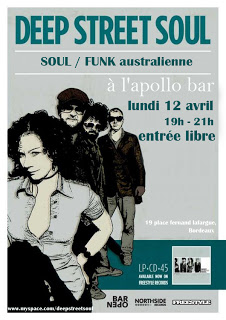 This month has the band touring through the UK, France and Spain on their maiden voyage in Europe.
Tomorrow night they are playing a free set at the Apollo bar and then a full set at the Saint-Ex with Randa & the Soul Kingdom (AUS).
I know it's a Monday night and sure you'll be a little jaded from the weekend but in all honesty these guys are too good to miss. Drop in after work, order yourself a beer and kick back to some funkified soul tunes from down under!
When: Monday 12th April
Where: Apollo Bar (7pm – 9pm) – Saint-Ex (9pm)
Cost: Apollo Bar – FREE! ; Saint-Ex – €8
www.myspace.com/deepstreetsoul