Most of you living in Bordeaux will have probably have noticed a new bike hire service which is available to the public.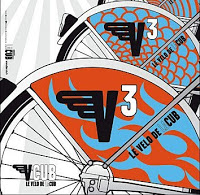 The VCUB (V3) service was unveiled in February this year and provides the residence of Bordeaux a simple and effective way to get around town. There are 1545 bicycles and 139 stations throughout the city and surrounding areas.
The way it works is that you pick up a bike at the station of your choice and return it to which ever station is the closest to you. Each station is equipped with a information terminal (English available), where you enter in a code given to you when you register and pay for the bike. Not every terminal has credit card capabilities, so you'll need to find one that does before you register your details.
You register your account by using your credit car, the network takes a deposit of €200 straight up which is charged if the bike is stolen or lost. Then your credit card is debited a €2 per hour until you return the bike to a station (first 30mins are free).
The service is a great way to get around town on short journeys and sure beats the peak hour on the trams.