The Protest Vendee Pro, an Association of Surfing Professionals (ASP) World Qualifying Series (WQS) 4-Star Men's event, will start April 21 at La Sauzaie on the West coast of France kicking off the 2010 ASP European Tour.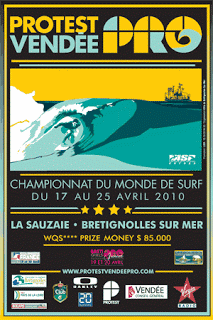 La Sauzaie, one of the best reefs of France renowned to deliver some consistent and hollow waves when the surf reaches 1 to 1.2 meter range, will welcome some of the world's best surfers competing for the valuable 1500 ratings' points and US$ 85,000 prizepurse on offer.
The competition was originally scheluded to commence on the 17th and 18th of April but due to poor conditions (lack of swell) the event has been pushed back a week.
Bretignolles sur Mer is a commune in the Vendée department in the Pays de la Loire region. It is around 300km from Bordeaux and 110km from La Rochelle.


When: 21 – 25th April 2010
Where: La Sauzaie, Bretignolles sur Mer
http://www.protestvendeepro.com/