The Weekend des Grands Amateurs is devoted to people who love the Grands Crus of Bordeaux and wish to taste them in the world capital of wine.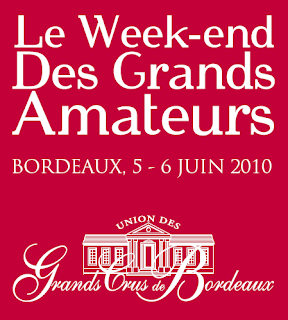 This weekend features an extraordinary tasting of over 100 Grands Crus as well as dinners at famous châteaux with the owner and a unique wine tourism opportunity.
The Week-End des Grands Amateurs is a wonderful way of unlocking the secrets of the great wines of Bordeaux, meeting the people who make them, and enjoying an eminently pleasurable experience!
Tastings, dinners, visits Saturday 5 and Sunday 6 June 2010
More than 100 Grands Crus to discover and taste…Under one roof in Bordeaux.
The Giant Tasting
Over 100 Grand Cru chateau owners will welcome wine lovers all day long on Saturday and pour two vintages of their wine (the 2007 vintage and a second one between 1998 and 2006). This tasting is organised under ideal conditions usually restricted to trade professionals, journalists, and professional buyers. Participants will also be able to talk to the people who actually make the wines. This event takes place in Hangar 14, in the centre of Bordeaux, overlooking the Garonne River and the Port de la Lune. Meals (either simple or gastronomic) are available on site.
When: Saturday, 5th June – 10.30am to 5:00pm
Where: Hangar 14 – Quai des Chartrons – Bordeaux
Cost: €56 with reservation; €71 on the door (1/2 price for students)

www.wga-ugcb.com