The Bamboos are Australia's masters of raw Funk and super-heavy Soul.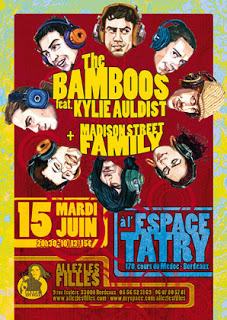 Fresh from headlining festivals to crowds of 50,000+ in their native Australia, and having just released their new album, '4', to much fanfare, The Bamboos will be embarking on a full band tour throughout June 2010, bringing their renowned full live funk/soul/hip hop style throwdown to the UK and Europe, for the first time in three years.
The Bamboos' live shows have evolved into non-stop mixtape-style throw-downs that draw the links between hip hop, soul, funk and old-school breaks.
Catch them live this coming Tuesday night with local funksters Madison Street Family!
When: Tuesday, 15th June, 2010 @ 8:30pm
Where: Espaces Tatry, 170 Cours du Médoc 33300 Bordeaux
Cost: €10/€13
www.myspace.com/thebamboos
www.myspace.com/madisonstreetfamily
www.myspace.com/espacetatry33
Atricle extracts taken from thebamboos.com and from jack s