Lots of stuff are happening for the celebration of the last 20 years of musical activism from the english label Ninja Tune. A huge boxset is on its way in September, with lots of new music, there are parties coming up everywhere, and the french magazine Trax has just released a special number (Ninja Tune 20 Ans…).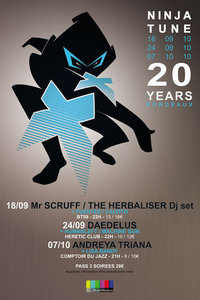 Ninja Tune is a London-based independent record label started by DJs Matt Black and Jonathan More, better known as Coldcut. The label has a strong leaning towards electronic, alternative hip hop, instrumental hip hop, nu jazz, drum and bass, and chillout music.
To help celibrate the passing of two decades the BT59 is putting on a night with two very large names from the Ninja Tune label.
Mr. SCRUFF is one of the oldest and well known main-stayers on Ninja Tune, known for the quality of his long electro sets, mix with a range of styles while projecting funny little cartoons of himself for the pickle headed crowd's enjoyment.
The HERBALISER DJs, Jake Wherry and DJ Ollie Teeba will captivate bug eyed night owls with a tasty mix of hip-hop that flirt innocently with electro, dub, funk with a dash of sixties soul.
When: Saturday 18th September @ 10pm
Where: BT59, site de Terres Neuves, rue Marc Sagnier 33130 Bègles
Cost: €16 on the door


Facebook Event