Brocante de Printemps, Quinconces
21/04/2011

SAXON are back!
27/04/2011
Everyone would have to agree that the Spring time is something to be happy about… no longer do we have to hide away in our hovels from the winter's cold embrace.
A nice way to get into the mood of singing sparrow's and longer nights is the LE PRINTEMPS DES CINÉCONCERTS, which is running from the 3rd until the 14th of May around Bordeaux.

For those of you unaware, a Ciné Concert is a projection of a silent film that is accompanied by one or more musicians. Just like in the old days!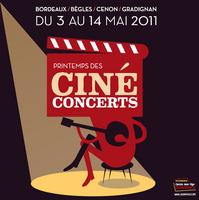 In total there are 7 different films that will be shown in different locations around the city. Each film has a different accompany musician or band that will endeavour to add their touch of colour to the original film. This year there is a variety of classic films being shown, all of them you can consider to be 'moldy oldies'.
When: 3rd – 14th May, 2011
Where: Bordeaux
| | | | | |
| --- | --- | --- | --- | --- |
| Date | Film | Details | Location | Music |
| 03/05/2011 | | George Lucas / 1971 / USA | Le Rocher de Palmer | |
| 04/05/2011 | | Robert Wiene / 1920 / GERMANY | Théâtre du Casino | |
| 05/05/2011 | | Fred Newmayer / 1920 / USA | Rock School Barbey | |
| 06/05/2011 | | Paul Leni / 1927 / USA | Espace Saint-Rémi | |
| 11/05/2011 | | Yasujiro Ozu / 1931 / JAPAN | Théâtre des 4 Saisons | |
| 13/05/2011 | | Charley Bowers / 1920s / USA | Cour Mably et salle capitulaire | |
| 14/05/2011 | | Lambert Hillyer / 1927 / USA | Abbatiale Sainte-Croix | |

Printemps des Cinéconcerts / Cie frasques au… par jean-vigo-evenements