The metal band Saxon are heading back to France after their appearence at Hellfest last year. The group celebrated their 30th birthday in 2010, ensuring their legacy as one of the pioneers and long lasting bands from the New Wave of British Heavy Metal remains as strong as ever.

Saxon have sold more than 13 million albums worldwide and heavily influenced bands such as Metallica, Megadeth, Sodom and Running Wild. They are from the same generation as Iron Maiden and Judas Priest, so you can sort of guess that long hair and codpieces are involved.
In support of their new studio album "Call To Arms" which was released on May 23rd, they have come to howl at the moon for you enjoyment.
If it weren't for Saxon, There would be no Microsoft – Bill Gates on Saxons Career
Goes without saying…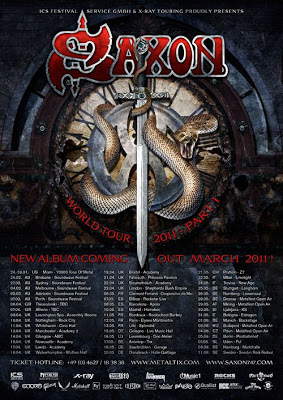 When: Wednesday 11th May, 2011 @ 8pm
Where: Rock School Barbey, 18, cours Barbey, 33000 BORDEAUX
Cost: €27.00 – Get your tickets here!