If you guys like doing your hair up into a bit of a quiff and strapping on your blue suede shoes, either you are a diehard Elvis impersonator or you get into a bit of Rockabilly and/or swing music.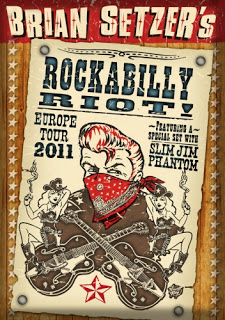 If this is the case, you're in luck! The legendary maestro of big band madness, Brian Setzer, is gracing the shores of the Garonne to strut his guitar shredding goodness.
In the 1980s, Setzer fronted the popular rockabilly band, Stray Cats who caught America's attention and even graced the Top Ten hit list a couple of times with their 1982's album Built for Speed.
The 90s had Setzer ledding a comeback for swing and big band music, when he formed The Brian Setzer Orchestra. The band has released 6 albums to date and two live DVDs. This group had one hit, "Jump, Jive, and Wail" around the same time songs like the Cherry Poppin' Daddies' "Zoot Suit Riot" had been received favourably in mainstream America.
He has been dubbed by some, as one of the greatest guitarist in the world, being awarded the Orville H. Gibson Lifetime Achievement Award, joining the club alongside the likes of B.B.King and John Fogerty.
So grease down those sideburns and gear up for some dancing!
When: Sunday 26th June, 2011 @ 8pm
Where: Espace Médoquine, 224 cours marechal Gallieni, 33400 Talence
Cost: €49.90 – Get tickets here!