In warm up for the Rugby World Cup that will be held in New Zealand later this year, the Bordelais are in for a treat when a friendly match will be played between France and Ireland at the Stade Chaban-Delams in August!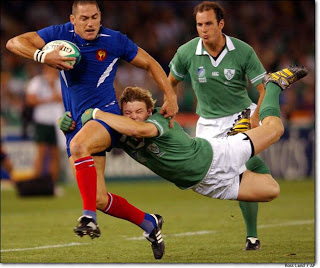 With France beating the men in green by 3 points in their last encounter (6 Nations / 25-22) in February, it 's a sure fire beat that the Irish will be wanting to make an impression before things get serious in September.
The match will be a cracker regardless, giving the fourth and sixth IRB ranked teams a chance to make a statement to heavyweights such as New Zealand, England, South Africa and Australia.
The Bordelais may recall back in 2007 when the streets ran green with Ireland playing two of their RWC pool matches here. No doubt, it will be a repeat performance of black beer and shamrocks hitting the street before and after the match.
When: Saturday 13th August @ 8:30pm
Where: Stade Chaban-Delmas, Place Johnston, Bordeaux (Tram A)
Cost: Get tickets here!
• Category 1 : €75
• Category 2 : €55
• Category 3 : €35
• Category 4 : €15