Jelly – Definition
1. A soft, semisolid food substance with a resilient consistency, made by the setting of a liquid containing pectin or gelatin or by the addition of gelatin to a liquid.
2. A casual working event that takes place in over a hundred cities where people come together (in a person's home, a coffee shop, or an office) to work for the day.
Jelly (the work get together, not the food) has come to Bordeaux! The goal is to provide a working social environment for all those independent freelancers and working professionals who want to get out of their home offices and into a chilled space to bounce idea's of like minded individuals.
This original idea started in New York back in 2006, where two roommates came to the conclusion that even though working from home is pretty rad they were missing out on brainstorming, sharing and staff room gossip.
Since these early days the idea has really expanded with chapters opening in around 100 cities across the world.
The Bordeaux Jelly has recently been created by Justin Staple, who after living in Bristol was first introduced to the concept. The idea is to meet for a whole working day (9 to 5) on a weekly basis. At the moment the group is meeting at the Tchaï Bar (rue du Mirail) but depending on availability may look for other venues to rotate their meetings. Jelly is open to English and French professionals alike and can be a great melting pot of language and cultural ideas.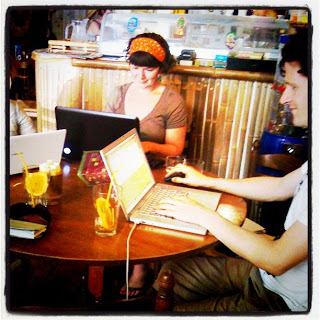 So, if you're looking for some brainstorming pals or you're a venue that would like to host a Jelly workshop, contact Justin!
Via Twitter: http://twitter.com/elpats
Via email: elpats@mac.com
Jelly Bordeaux – Facebook Page.
Official Website – www.workatjelly.com
When: Next Jelly is the 4th July – 11am to 5pm (check Facebook page for future events)
Where: Tchaï Bar, 49 Rue du Mirail, Bordeaux
Cost: Free!! (well you pay for your own coffee)