The Reggae Sun Ska festival is back in its 14th year!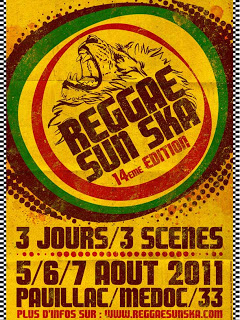 This year Reggae legend Bob Marley will be honored with two of his offsprings, Kymani and Stephen Marley taking the stage.
The Sound System scene will include the likes of the Pow Pow Movements and Hollie Cook & Prince Fatty!
With an increasingly international flavour with artists from Jamaica, England, Germany, Guadeloupe, USA, France, Australia and New Zealand, this Reggae, Dancehall, Dub, Dubstep get together should be already firmly locked into your calendar!
If you're interested about last year's festival, click here.
Check out the line up over the 3 days. I believe there are still tickets available from FNAC.
To order online, try here: http://reggaesunska.fnacspectacles.com/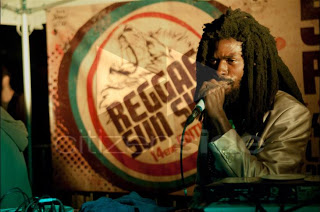 FRIDAY 5th August
DUB INC. (Reggae – France)
THE HEPTONES (Reggae – Jamaica)
LKJ (Reggae/Dub – U.K)
ETANA (Reggae – Jamaica)
ANDREW TOSH (Reggae – Jamaica)
RAGGASONIC SOUND SYSTEM (Ragga – France)
POW POW MOVEMENT (Reggae/Dancehall – Germany)
BIG YOUTH meets MAD PROFESSOR in Dub Feat. THE UPSETTERS (Reggae/Dub – Jamaica/England)
ADMIRAL T (Dancehall – Guadeloupe)
DUB IN V.O. (Dub/Dubstep – France)
WICKED SYSTEM (Reggae/Dub – France)
PRINCE FATTY Feat. HOLLIE COOK (Reggae – UK)
CHANNEL ONE SOUND SYSTEM (Reggae – UK)
DUB A LA PUB (Vainqueur Europeen Reggae Contest) (Reggae – Germany)
SATURDAY 6th August
Patrice (Reggae – Germany)
Toots & The Maytals (Reggae – Uk)
Danakil (Reggae – France)
Dubtonic Kru (Reggae – Jamaica)
Takana Zion (Reggae – Guinea)
Katchafire (Reggae – New Zealand)
Broussaï (Reggae – France)
Mista Savona Feat. Vida Sunshyne (Reggae – Australia)
Lieutenant Foxy (Reggae/Dub – France)
Hall Uni Son Feat. Echo Minott (Reggae – France/Jamaica)
Perfect Feat. Guiding Star (Dancehall – Jamaica)
Irie Ites Feat. Trinity (Reggae – France/Jamaica)
Jahcoozi (Electro/Dubstep – Germany)
Ladi6 (Reggae/Soul – New Zealand)
SUNDAY 7th August
KY-MANI MARLEY (Reggae – Jamaica)
STEPHEN MARLEY (Reggae – Jamaica)
WINSTON MCANUFF & THE BAZBAZ ORCHESTRA (Reggae – Jamaica/France)
LUCIANO & IRIE VIBRATION BAND (Reggae – Jamaica)
HARRISON "PROFESSOR" STAFFORD (Reggae – USA/Jamaica)
RICHIE SPICE (Reggae/Dancehall – Jamaica)
BURRO BANTON (Dancehall – Jamaica)
ROMAIN VIRGO (Reggae – Jamaica)
GAPPY RANKS (Reggae/Dancehall – U.K)
LORD ZELJKO (KING DRAGON SOUND SYSTEM) (Reggae/Dancehall – France)
ART MELODY (Hip Hop – Burkina Faso)
ZION TRAIN SOUND SYSTEM (Dub – England)
JOSEPH COTTON With HUMBLE I & DJ AKADEMY SOUND SYSTEM (Reggae – Jamaica/France)
When: 5, 6, 7 August 2011
Where: SITE DE TROMPELOUP, 33250 PAUILLAC (around 50km from Bordeaux)
Cost: €73 – 3 day pass / €28 – 1 day pass