Bordeaux has recently seen a soaring augmentation of tourists visiting the city over the summer and has been dubbed as a cultural destination by local newspapers. With a 14% increase of tourists compared to July 2010, and with 32% of the total being foreigners it seems only right that there are more cultural centres for people to visit.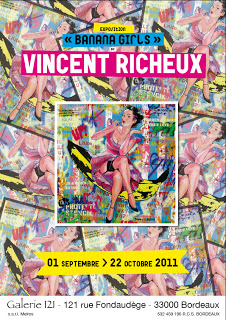 Perhaps sensing this need to support local and international culture, Samira and Derek Phillips are launching into something that will hopefully offer Bordelaise and tourists alike an avenue to appreciate Contemporary art.
Galerie 121will have its vernissage and official opening on the 15th September. Their first exhibition will display works from Vincent Richeux, a local artist, who's colourful work is inspired by street art and comic book characters.
Samira and Derek have lived in France since 1983. Samira is a teacher and Derek has been in Major Sports Events all over the world. Samira is English from Irish/Moroccan stock and Derek is from Scotland.
When asked why they were opening Gallery in Bordeaux, they're swift reply was: "We love taking risks!".
When : 15 September 2011 @ 6.30pm
Cost : Contact the Gallery directly for an invitation
Where : Galerie 121, 121 rue Fondaudège, 33000 Bordeaux