The Bordeaux Wine Festival will take place from the 28th June until the 1st July.
The last time the Bordeaux Wine Festival graced the quays was in 2010, with the River Festival taking it's place last year.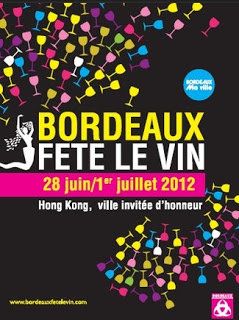 This year promotes the usual Bordelaise regions, with tasting pavilions of Saint-Emilion , Fronsac , Pomerol, Médoc & Graves, Blancs secs & Rosés de Bordeaux, Bordeaux – Bordeaux Supérieur, Côtes de Bordeaux, Sweet Bordeaux, Vins d'Aquitaine, les grandes marques des maisons de négoce.
There are also workshops that inform and educate the general public about the finer appreciation of the local drop.
Not to be outdone by recent years, the organisers have also planned several outdoor concerts (notably Lou Reed) and every evening once the sun has set, a sound and light show (fireworks included).
The fireworks generally kick off after the sun has gone down (usually around 11:30pm) and this year each night a different country will be represnted through the use of colours.
Thursday 28 June : U.S.A
Friday 29 June : Australia
Saturday 30 June : Spain
Sunday 1 July : France

The tasting pavilions line the quay, and you can purchase a wine tasting pass online (or from other outlets in the city).
13 tasting tickets
1 glass and glass holder
1 tramway ticket and "Privilege" tickets
VALIDITY: every day from Thursday to Sunday
PRICE:
Advance Purchase = 15 €
On site = 18 €
Other Points of Sale:

Office de Tourisme de Bordeaux
12, cours du XXX juillet
Every day of the week
Tel.: +33 (0) 556 006 620 – Fax: +33 (0) 556 006 601
otb@bordeaux-tourisme.com

Comité Départemental du Tourisme de la Gironde
21, cours de l'Intendance
from Monday to Saturday
Tel.: +33 (0) 556 526 140 – Fax: +33 (0) 556 810 999
tourisme@gironde.com



Surrounding Areas (Greater Bordeaux)
CARREFOUR : Mérignac, Bègles, Lormont
CARREFOUR MARKET : Bordeaux Ste Catherine, Bordeaux Cauderan Ferry
GEANT – Pessac, Villenave d'Ornon, Saint-André de Cubzac
FNAC de Bordeaux et Bordeaux Lac
WHEN: 28th June -1st July, 2012
WHERE: Bordeaux Quays
COST: Free to look, €15 to taste!