Ruben Carrasco is a Mexican-Canadian artist based in Montreal and is currently showing his work in a solo show at the Magnetic Art Gallery in Bordeaux.
He studied visual arts and graphics in both countries and started his career as a set designer producing large scale paintings for theatres, which gave him the inspiration to produce his own work on canvas and murals.
In the course of his professional experience he has also been active as a producer, and the co-founder of IPAF festival, and beforehand he explored other ways of creativity working as a tattoo artist, photographer, designer and a digital artist.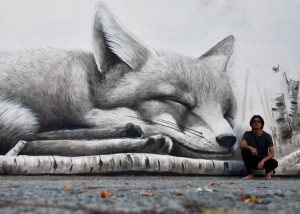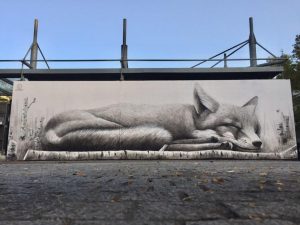 Ruben has participated in solo and group shows, festivals, biennials and presentations in South Africa, China, Italy, Germany, Spain, France, Belize, Cuba, United States, Israel, Mexico and Canada.
"I have always been curious and interested in history, traditions, metaphysics, science and the development of philosophical ideas, mainly topics related to human behaviour and the complexity of our interaction with nature. The "Neoshamans" series appear as the result of this informal approach to those concepts."
The current exhibition of Ruben Carrasco at Magnetic Art gallery offers a new series of artworks tend to a universal narrative that offers enough room to expand or distort the multiple conclusions we can recreate through our personal life experiences and ways of perception.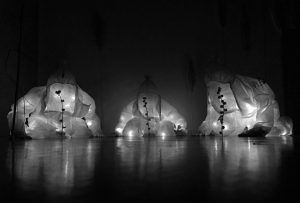 The gallery is showcasing a varied exhibition of artworks that includes an installation, original paintings, drawings, limited edition prints and his most recent mural "Last Forest Dreamer" until October 12th.
This body of work is composed mostly by paintings of chromatic and bi-chromatic scenes of animals interacting with neoshamans characters which are wearing costumes that fusion technological elements with organic tribal objects. This hybrid look represents the dispute and the conciliation between the pragmatism of science and the spiritual world of ancestral traditions as a sort of "new ways of faith" or the last hope to heal nature, but also revealing the loss of control caused by their own human condition.
WHERE: Magnetic Art gallery – 1 Place Avisseau 33300 Bordeaux
WHEN: Until October 12th, 2019
HOURS: Wednesday to Saturday – 14h – 19h