The Galerie 121 is currently in the midst of showing their new exhibition from French artist, Jean-Pierre Schwabe.
The Gallery is open Tuesday to Friday from 2pm to 7pm and Saturday from 10am to 12.30pm and 2pm to 6pm. They are also available for private showings at other times with a couple of days notice.
Each canvas exhibited in the Galerie 121 carries a description in French/English and the artist is present in the gallery at least 3 days every week to meet and discuss his work with all visitors.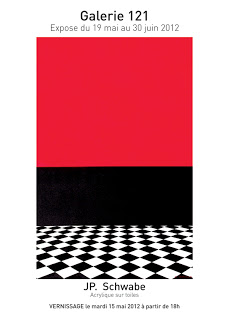 About the Artist:
Jean-Pierre Schwabe was born into a family of artists. He is the grand-son of Carlos Schwabe, a symbolist painter from Geneva and the son of Jean Schwabe, a model painter.
He was at the service of the National Education for 30 years and from now on he can fully devote himself to his art.
Inspiration came from his masters,surrealist Dali,Chirico, Magritte and also Soulages for his handling of the black colour.
His paintings deal with urban life,the environment,society,the founding myths.The latest show an increasing interest in abstract expression.
When: 19th May until 30th June, 2012
Where: Galerie 121, 121 rue Fondaudège, 33000 Bordeaux
Cost: Free Entry