By Tracey Farrell
This December I want to share some words and yoga techniques which can be used as a guide to walking mindfully!
I also suggest a few places that are great for walking in and around Bordeaux!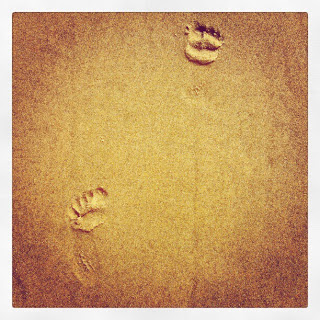 I walk, I feel how my feet come into contact with the earth (sand, mud, water depending on the outing!)
I walk, I draw back the neck, bring the chin towards the chest, I feel taller already, my thorax is open.
My body breathes better this way.
I grow taller when I inhale.
My belly contracts when I exhale, I feel a vertical push that lengthens my spine.
I grow when I inhale, I grow when I exhale.
I sometimes feel the need to breathe more deeply, the belly, thorax, back, collar-bone.
I can feel that the body is more open.
I inhale and exhale deeply and gently.
I inhale, I walk forward 3 steps, I exhale for 3 steps.
I inhale I walk forward 6 steps, I exhale for 6 steps/
I walk with my "grasshopper legs" that begin at the hip!
I feel even taller now!
I am fully present, how pleasant!
We have arrived at our destination.
I enjoy walking IN Parc MAJOLAN Eysines, Parc Bordelais, Jardin Public. A walk by the ocean. I don't have a car any more, I take the Bordeaux –Cap ferret Citram 601 bus! The crème de la crème, a walk on the coastal path from Bidart to St Jean de Luz. It's a 3 and a half hour walk, 13kms to St Jean de Luz. Wooooooooooooooow is the only word that comes to my mouth as the view of the wide ocean opens before me. Beaches, creeks, small paths and roads and forests .The mountains on one side ,the ocean on the the other. I take off my shoes and walk barefoot in the sand. A break here and there to enjoy the view, have a picnic. In what seems like no time at all, I arrive at the bay in St Jean de Luz. The walk is well signposted with small yellow arrows.
Enjoy the walk, enjoy the nature.
Check out Tracey's recent post about Saunas and Hammams in Bordeaux.