Mark is an Irish musician that has been living in Bordeaux for a fair few years.
No doubt if you pull up the concert listings for any given week, he'll be listed playing somewhere in and around the city. He also hosts open mic nights on Tuesdays at the HMS Victory and Wednesdays and the Houses of Parliament.
Where are you originally from?
Belfast, Northern Ireland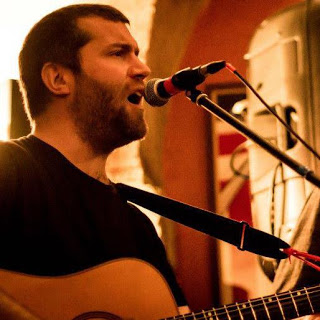 Where are you living at the moment and what's it like?
I live in Quartier Saint-Pierre. I like it here. Everything is 2 mins away. Great for going out and for concerts. I don't have to travel too far.
How long have you lived in the region?
7 years
Why did you move to France and why did you choose Bordeaux?
I lived in Barcelona for 2 years before and met a French girl. So I moved to Bordeaux.
Did you find it easy finding accommodation when you first moved here?
It is a lot more difficult finding accommodation in Bordeaux compared to Belfast and Barcelona. When you don't know anyone in France to be a guarantor plus the big deposits you have to pay and admin fees with the agencies here. My only option was to go private.
What do you do for a living?
Musician- intermittent du spectacle.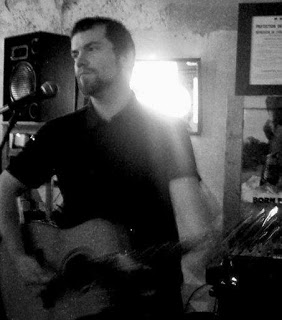 Was it easy finding work?
I worked in an Irish bar for a couple of years. Now I have some contacts. I'm playing music full time. Its a little easier but it's still a lot of work to books concerts (phone calls, emailing and asking in bars etc.. Lots of leg work)
Has it been easy meeting people?
Not in the beginning, but from going to Irish and English Bars and playing music. I've met a lot of people.
Are most of your friends Expats or French?
Most of my friends I guess would be expats. Although i do at some french friends and im married with a french girl. I would say about 60/40 – Expats/French.
Did you already know French?
I had 5 years of French in school which helped a little but most of what I learnt in school was useless.
How do you find the cost of living in Bordeaux?
I find the cost of living here a little expensive compared to Belfast and Barcelona. Especially accommodation.
What's the best thing to do in Bordeaux on a summers day?
Sitting on a terrace with a nice cold beer or going to the beach.
What's the best thing to do in Bordeaux on a rainy day?
Go to a nice restaurant.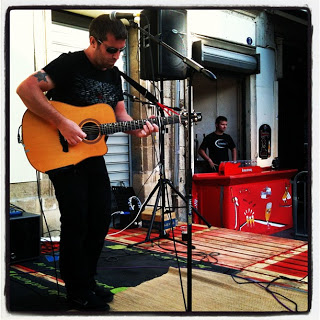 What are the positives of living here?
Nice food, nice weather most of the year and a nice way of life.
What are the negatives of living here?
The Winter
Catch Mark play at Café des Moines on the 4th May or check out his websites for further information about how to get in contact with him.
http://www.youtube.com/user/mrmarkrowe/videos
https://www.facebook.com/mrmarkrowe
http://www.myspace.com/mrmarkrowe