Ravi was a cancer biologist at the University of Cambridge. He moved to Bordeaux with his French wife and a two year old daughter.
Where are you originally from?
I was born in India and I moved to the UK almost 20 years ago. I lived in Bristol, London, Dundee and Cambridge during those years.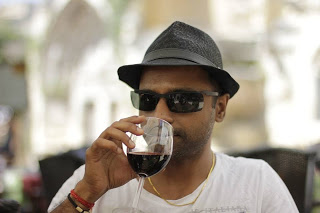 Where are you living at the momen?
We live in Floirac about 15 mins from Bordeaux.

How long have you lived in the region?
We moved to France at the beginning of June this year so, not so long ago. I am still finding my way around the place.

Why did you move to France and why did you choose Bordeaux?
My wife was offered a better position in her company with the option to move either to Paris or Bordeaux. Of course, as a wine lover, I swayed her to move to Bordeaux. Also the climate of the region played an important part in the decision making process.
What do you wish you knew before moving here?
I wish I had known that it wasn't going be easy to find a job!

Did you find it easy finding accommodation when you first moved here?
Yes. Actually, my wife's company helped us find so we had a relatively unadventurous house hunting!

What do you do for a living?
I have been a scientist all my adult life. I spent most of that time trying to understand how changes in proteins cause cancers. It is a fascinating microscopic world with macroscopic consequences.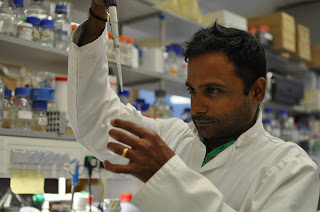 Was it easy finding work?
No! I am still negotiating with laboratories in Bordeaux University to support my research. There is a saying in the academic circles in the UK which goes, 'it is easy to break into the Sicilian mafia than the French academia!'. I am not the one who easily gives up so, I will continue negotiating hard! In the meantime, I started blogging about the funnier times of my life. Here is the link: http://lordofthegrump.wordpress.com/

Has it been easy meeting people?
I have been frequenting the play areas with my two year old and I met a few Anglophones, Russians, and a few Polish. I haven't been to the English/Irish pubs but I am sure I will meet a whole variety of people!

Did you already know French?
My wife and I have been together for 11 years and in that time I have managed to learn French. I wouldn't say my French is perfect but it is competent. Moreover, it flows when the wine is flowing!
How do you find the cost of living/lifestyle in Bordeaux?
Having lived in London and Cambridge where the cost of living is quite high, I find it refreshing that I get more bang for the buck (so to speak) in Bordeaux. I particularly like the price of wine here! Overall, I think the lifestyle and the cost of living are definitely better than Cambridge!
What's the best thing to do in Bordeaux on a summers day?
The water mirror on the riverside is mine and my daughter's favourite place when it is hot and sunny!
What's the best thing to do in Bordeaux on a rainy day?
Stay indoors and curl up to watch cartoons on the tele!
What are the positives of living here?
Easy access to the grandparents! My family is spread all over the world and it is nice for my daughter to be close to one set of grandparents. We are not so far from best beaches in France and I, for one, am a beach person.
What are the negatives of living here?
Limited jobs for non-french speakers.
Are you involved with any groups / associations / teams, etc?
Not yet but I am keen to join some organisations that involves parents with young kids. I am also keen to start/join a cricket club. I am a keen cyclist and I would like to join a cycling club or something.
Do you have a business / website / blog?
I blog about funnier side of life which can be found here: http://lordofthegrump.wordpress.com/
Any closing comments?
I would like to meet other Anglophone families to share experiences and find out more about being an expat!