What's mathcore I hear you ask?
Well, if you don't know… here's a definiation: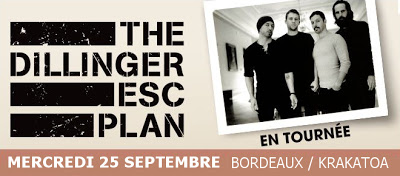 Mathcore is a rhythmically complex and dissonant style of music. Both math rock and mathcore make use of unusual time signatures and has it's roots in hardcore punk music.
So… who are these guys you may ask?
The Dillinger Escape Plan are one of the mathcore forerunners of the gernre and have been so for around ten years now. They founded back in 1997 in Morris Plains, New Jersey and have stunned audiences around the world with not only their manic sound but also their intense and raw stage shows.
Good old fashion rock…
When: Wednesday, 25th September @ 8:30pm

Where: Krakatoa, 3 Avenue Victor Hugo, 33700 Merignac
Cost: €17.00