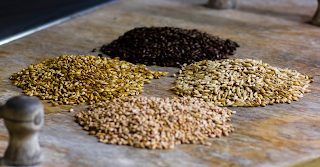 The malt, stored on the 1st floor is funnelled into the range of tanks to be mixed. Bordeaux water is used (less acidic explained Nathanaël, meaning extra malt has to be added to raise the alcohol levels), malt, hops, yeast and some spices are all skillfully combined to produce a selection of 100% Girondin local beers.
Non filtered and non pasteurised the ingredients are sourced in Germany and the style of brewing is based very much on the Anglo-Saxon tradition. Nevertheless Gasconha remains a beverage firmly rooted in Aquitaine and continuing in the footsteps of the Brasserie de l'Atlantique – THE main local Bordeaux brewery dating back to the 19th century.
The selection of brews is fairly comprehensive and designed to meet all tastes. From the Gasconha range brewed with a complex variety of flavours to the Alouette beers with a more modern stylish image. There are also side products such as beer vinegar, gift box sets, glasses and beer mats.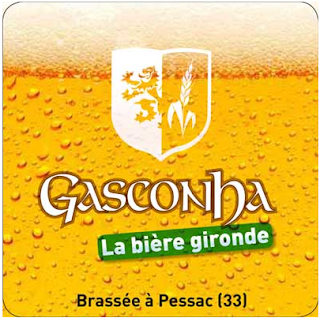 A Christmas stocking filler !!
As for how marketing a local Bordeaux beer fits in with the city's image as the international wine capital, Nathanaël explains that "(trans) We are very well received.. the beer market has changed over recent years. With the advent of local craft beers it has become more of a luxury product for sampling and tasting."

He explained that the target market for Gasconha is the more sophisticated beer drinker who will be looking to discern certain flavours and appreciate the product as an aperitif. As for the market base, they are aiming for a strictly local production and to keep supply regional. Not only does this reduce the carbon footprint but also keeps the beer rooted in the culture of the Sud Ouest. The company voicemail treats you to hearty local Gascon village singing!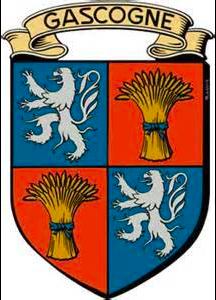 The website in both the French and Gascon languages is user friendly as well and has great sections such as recipes for cooking with beer – 'Civet de bœuf à la bière' (beef and beer stew) being a personal favourite from the UK..
They also have a strong eco-friendly ethic – The residue from the malt after brewing is given as to local farmers as cattle feed, the brewing process uses recycled hot water, biodegradable cups are used (in conjunction with the Bordeaux Unikeco company) and all packaging is reused as much as possible – "
ecology and economy go hand in hand"
As for the future of Gasconha.. They have a stall on the Sunday marché des Chartrons and are forever increasing the number of local outlets. They have recently taken on extra staff and are looking to expand. The brewery is in a state of constant evolution as are the brewer's future projects. There was a small local beer festival this October and this week they are giving a lecture to Bordeaux university Oenology students on brewing techniques.


| | |
| --- | --- |
| Oktoberfest at the brewery – 2013 | |
The Gasconha range :
Gasconha Seigle – A 6% Rye beer it has rustic wheat beer characteristics and dried fruit overtones. Best served from 8°C to 11°C.
Gasconha Brune – Traditionally brewed, at 7.5% it hits hard. With caramelised and roasted malts as well as a hint of bitter orange it has a generous flavour not to be taken lightly!
Gasconha Ambrée – 6% with roasted and smoked malts it has caramel and coffee flavourings. Superb as an aperitif it also goes well with red meat and is best served at 8°C to 12°C.
Gasconha Blonde – A moussy lager and at 5.5% it goes perfectly with cheese and white meats. Using a combo of 4 malts and English and German hops it has character!
Gasconha Blanche – A 5.5% German style wheat beer it is described as rounded and velvety with floral and aniseed notes. Goes well with seafood and salads and served between 6°C and 8°C.
Gasconha de Printemps – Evoking Spring there are hints of Jasmin as well as caramel and dark malts. 6% and only available in 33cl.
Gasconha de Noël – A rich festive 6% Christmas beer made with Aquitaine honey. Traditionally brewed with spicy overtones this baby is guaranteed to warm up the winter. With the 2013 brew recently finished the Gasconha Christmas beer is available from a range of stockists including on their Sunday market stall on the Quai des Chartrons. A Christmas stocking gift pack is also on offer with 3 bottles and its very own Gasconha glass. What better way to wash down a roast turkey with all the trimmings!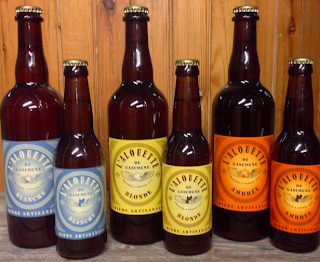 The Alouette range :
L'Alouette Ambrée – 5.9%, aromatic with caramel and roasted overtones.
L'Alouette Blonde – A well balanced and flavoursome 5.4% lager.
L'Alouette Blanche – 5.4% with a complex palate and floral hints.
Gasconha Vinaigre de Bière – popular in the UK, Germany, Austria, and the Netherlands beer vinegar has a malty taste and is a fantastic way to spice up a salad and intrigue your guests…


The brews are available on draught at the Vintage (Quai de Richelieu) and the new Vintage Bar near the Grosse Cloche as well Chez le Pépère near Place Gambetta. By the bottle there are an increasing number of suppliers all over town such as Angelique at the Caisse de 12, Cave Oenolimit, Le Perdi Tempo (near Porte Caillou), Paul's Place in Chartrons, Centro Do Brasil (rue du Port), La Grange (Cours de L'Argonne) and tons of others. Their beers can also be bought directly at the brewery, on the Chartrons Sunday market or by rendezvous in Bastide. Gasconha also offer the renting out of a beer bar with all the equipment, ideal for an outdoor event or festival as well as workshops to create your own tailor made brew. Check the website for merchandise, recipes and more details.
Gasconha outlets in central Bordeaux