Nestled along the rue Fondaudège, only 500 meters from Place de Tourny, is a new specialists coffee shop with an Irish twist.
Café Eriu calls upon strong international influences, named after the patron goddess of Ireland, the café / eatery is the project of native Galwegian, Grace Lohan. With Irish, French and South American team members, she aims to bring a touch of her international voyages to Bordeaux.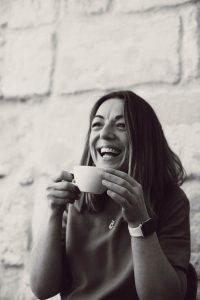 Grace began her French journey almost 3 years ago, after stints living in Dublin, London and Sydney, she travelled through France with her partner before they chose Bordeaux for its human and cultural appeal.
"After living in other large cities around the world, I was looking for a city that was smaller than I had previously experienced. However, I didn't want to give up on the cosmopolitan vibe that I had grown accustomed to… Bordeaux was a great option, somewhere I could easily project laying down roots".
With a blank slate greeting her upon her arrival in Bordeaux, she grappled with plans for future projects and working opportunities. Having come from a finance background, she knew that she didn't particularly want to head back to a world of stuffy office jobs. Seeing that she was raised in a family that owned gastro-pubs and hotels, opening her own speciality coffee shop made sense.
"From an early age, I was always around people and hospitality as my parents had several businesses back in Galway. For me, starting a coffee shop in Bordeaux seemed like second nature".
After searching for a location, that took around a year to find, Grace was pleased with the opportunity that presented itself when choosing to set up shop on rue Fondaudège.
"I really wanted to find a location where I could develop my activities within the community. It's an important part of Café Eriu that we welcome the locals, get to know them and create a 'have-a-chat' atmosphere".
With tasteful decor, Café Eriu demonstrates their true colours with a stylish emerald green tiled motif installed behind the barista's workstation. Visitors are greeted with tremendous natural light that radiates through the establishment's front window, making a quick coffee break or a spot of lunch an inviting experience.
Grace wanted to offer locals the chance to experience authentic Irish products, with a real emphasis on natural and organic produce. She works with independent Irish coffee roasters and butchers, along with local French fruit and veg suppliers.
"When looking into our creating our menu, it was evident that we needed to blend typical Irish themes. Pork and seafood dishes were key, as these are things that I find to be synonymous with my Irish heritage".
On the menu you will find favourite staples such as smoked salmon, smoked haddock & pork sausage rolls. Not to mention vegetarian friendly plates, speciality coffee roasts and yummy desserts.
With the Bordeaux coffee shop culture exploding, it is truly refreshing to see so many new establishments forming a strong community. All of which have their own identity and personality. Pulling on influences from around the globe, it's easy to see Café Eriu making its home in Bordeaux and offering locals a taste of the Emerald Isle.
Address: 119 Rue Fondaudège, 33000 Bordeaux / @cafeeriu
Many thanks to Laura Macías for proposing this collaboration and her excellent pictures.
Find more of her work here: lauramaciasph.com / @lamacias_
Lonely Planet Pocket Bordeaux (Travel Guide) (English Edition)