Bordeaux Pub Guide
The Dog & Duck – It's a Quacker!!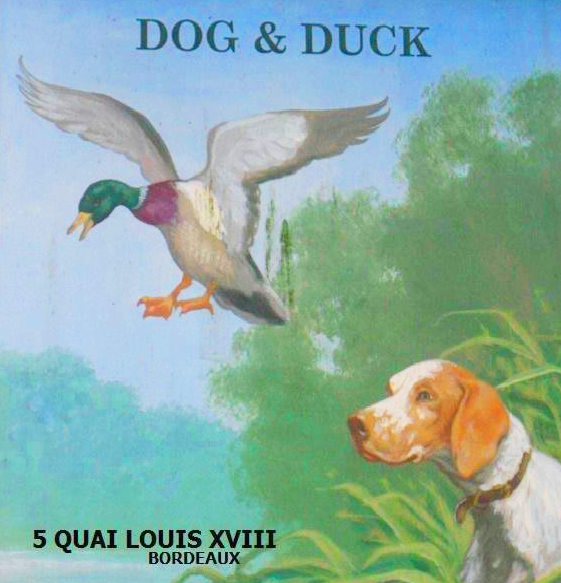 Named after the Manchester boozer where the landlord hails from…
To check out the latest addition to the burgeoning Bordeaux boozer scene get down the The Dog & Duck for its impressive range of beers, cocktails and shooters (food coming soon!)…


The perfect outdoor beer venue – once this Fowl weather is over…
Cheer yourself up on Ruff days

As with all the pubs in our fine city the key to success is location location…and at 5 quai Louis XVIII, this place is spot on. Opening its doors for business just before Xmas 2013 the D&D already has a strong following. With links to the Cock & Bull (Mickey the landlord is the C&B bar manager) they have a solid draught selection as well as the imminent arrival of bottled Real Ales and a sensational range of cocktails and shots.

They also have several sports screens and the bar/layout has an upmarket feel to it. But what really sets the Dog apart is its proximity to the Quais with a new tram stop being built alongside and the soon-to-be installed terrace. Once the winter rain is over this place will be THE pub in Bordeaux for summer pints overlooking the river. Don't be surprised to see this patch of Bordeaux pavement packed out during the Brazil World Cup, 14 juillet fireworks or as a warm up for matches at the new stadium coming soon…
Clean upmarket gastro-pub interior
So anyway, down to business…

Happy Hour is 3-8pm everyday and all day Sunday. On tap are Fosters, Heineken, Edelweiss, Affligem red fruit and Dog & Duck beer – €3/€6. Add to this Murphys, Magners, Newcastle Brown and Guinness – €3.50/€6. Bottles beers for €5 are Corona and Bud to be followed soon by some decent English brews.
The 'Dogs Bollosc' Cocktail list is a veritable work of art with tempting concoctions such as the Long Island Longuito, Mickey's Magic, Moses' Mercy and the Davies Dragon to name but a few – €6.50/€5 Saturdays and big ones for €9.50/€7.50 Saturdays. The list of 'Bombs' could strike fear into any liver – Dog Destroyer, Ice Bomb, Pepper Spray, Atomic Bomb and the famous Jäegar Bomb – €5 + about €10 for painkillers the next day… There is a superb selection of fine whiskies – €8 and a terrifying Jäegar machine.
Nowhere to hide – THE JÄEGAR MACHINE!!!
The weekly shenanigans are as follows:
Monday – pitcher + four shooters – €20
Tuesday – Joker night (pull a joker from the deck and he pays for your drink)
Wednesday – Student night (Happy Hour all night on presenting a student card)
Thursday – Quiz night, think your a wise guy..? Prove it!
Friday – Party Night, (music on demand) Tell them what you want to hear and they'll play it. Also €20 for 10 shots (normally €3 a shot)
Saturday – Cocktail Night (special prices on cocktails and shooters all night)
Sunday – Happy day, (the best hour for Happy Hour…is every hour..!)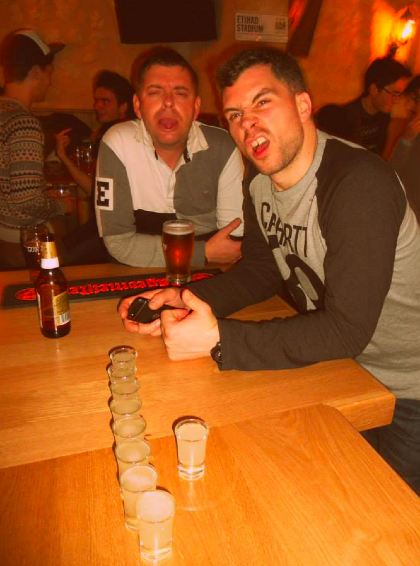 Crisps for the time being are Pringles and Lays awaiting the signing of a new supplier contract. The kitchen was out of action when I went in but barman Greg said they were reopening soon with a new extraction system. They play Rock and Blues in the afternoon moving to a more Hip Hop selection later on as the drinks start to flow and there is a bell for tips. Staff t-shirts were supplied by the DC Urban/Snow/Skatewear store, 23 Place Pey Berland. The DC lads are mates with the landlord and future collaborative events around the Bordeaux skate scene are planned!
T's supplied by DC urbanwear store – Pey Berland

This part of the central Quais has long been a host for various Bordeaux nightlife venues such as the famous Café Americain (closing it's doors for the final time in 2007 after more than 100 years – now the café Via Luna) and the Belle Epoque café resto. Despite becoming a bit of a no-mans-land since the conversion of the dockside the Dog & Duck and new tram stop will soon see this part of town buzzing again!
The long running Café Americain – a Bordeaux institution for over 100 years