For musicians and music lovers, the church of St Alfege has long been revered as the burial place of Thomas Tallis the 'Father' of English Church Music.
The present church choir, one of the finest choirs of it's type in the UK, is an excellent mixed-voice choir with about 30 members who are currently brought up to music by Stephen Dagg, Director of Music (also Director of the Centre for Young Musicians, a division of the Guildhall School, and the London Schools Symphony Orchestra).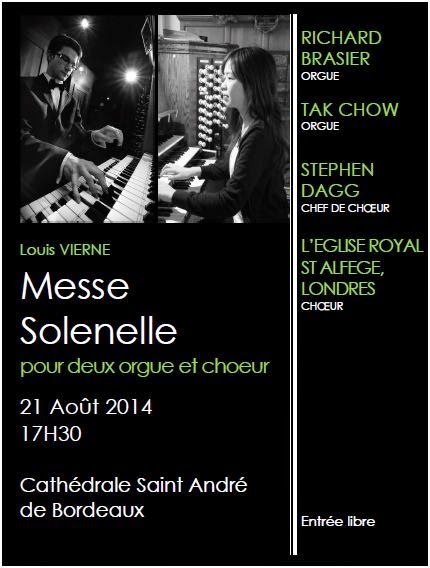 There will be two performances in Bordeaux this summer!
Vierne:
5.30pm 21st August 2014
Messe Sollenelle for two organs and choir at Cathédrale Saint André, Bordeaux.
Tallis:
8.30pm 22nd August 2014
Gaude Gloriosa – Église Sainte-Croix.
A performance of early and modern music including works by Tallis, l'Héritier, Marchand performed by the choir of the Royal Church of St. Alfege London, organists Tak Chow and Richard Brasier.
Richard Brasier (www.richardbrasier.com) is a graduate of the Royal Academy of Music in London, where he studied with David Titterington and Nicolas Kynaston. Aided by the prestigious Nicholas Danby Scholarship, he continued his studies with Johannes Geffert at the Hochschule für Musik und Tanz, Köln, gaining the highest possible marks and high praise from the jury for his Masters recital.
Tak Chow is organ scholar at the Royal Church of St Alfege, Greenwich and is a recent Bmus graduate of the Royal College of Music in London, where she studied with David Graham (Church of the Immaculate Conception, London, Sophie Veronique Choplin St. Sulpice – Paris) and Ian Curror (Royal Hospital Chelsea – London), gaining a distinction for her graduation recital.