Rustic Vines – Wine tours in English
For the ultimate blend of tasting, learning and sightseeing in this stunning region, look no further. Rustic Vines takes an altogether more relaxed approach to the world of wine, perfect for wine-lovers of any age! Not only do they visit some of the grandest of Bordeaux châteaux, but also some amazing family-run estates, what they like to call the Two Worlds of Wine.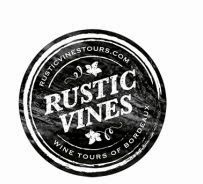 You'll be invited to taste and compare numerous varieties of wine, but don't panic! If you're at the very beginning of your journey into the world of wine, you'll finish your day feeling much more experienced and confident about sharing what you've learned. If you know your Pauillac from your Pomerol, put your skills to the test at the tasting tables!
If you don't quite know what you want from your Rustic Vines experience, just sit back, relax, and enjoy the wine and the scenery! With a great choice of Châteaux spanning 3 world-famous regions, you can choose your perfect tour!
The Regions:
Saint Emilion
Saint Émilion is overflowing with charm. For over 1000 years Saint Émilion has had an impact on France in some way or another, but notably in wine.
Named after the Monk Émilian who took refuge here in the 8th century to avoid prosecution for helping the poor. Saint Émilion is now a world heritage site. Hardly surprising really. Once you visit Saint Émilion you can really appreciate and feel the history that once filled the village.
Médoc
Médoc is one of the youngest regions in the Bordeaux area. But the evolution of its rich soils began over 50 million years ago.
In 1855 Napoleon III decided to classify and rank the most prestigious wines in Bordeaux. Nearly all of the best wines were from the Médoc. This classification still stands today and since this classification there have only been a few changes.
Once covered in boggy marsh lands, the Médoc has become one of the best wine producing areas in the world. The Freash wine experts say sometimes the terroir has to go through dramatic changes from the worst conditions possible in order to create the perfection that is now the terroir of Médoc. With the Grand Châteaux such as Châteaux Lafite Rothschild and Margaux its easy to see why.
Grave
Unlike most Bordeaux appellations, the Graves region is just as famous for its white wines as its reds. Pessac-Léognan and Graves have a long wine-making history. Red wine from this region was much loved by the English during the 300 years that Aquitaine was under English rule, from 1152 to 1453. Described usually as having a blackcurrant and cedar flavour with and commonly described as earthy, Cabernet Sauvignon is the most popular grape but there's also a strong blend of Merlot.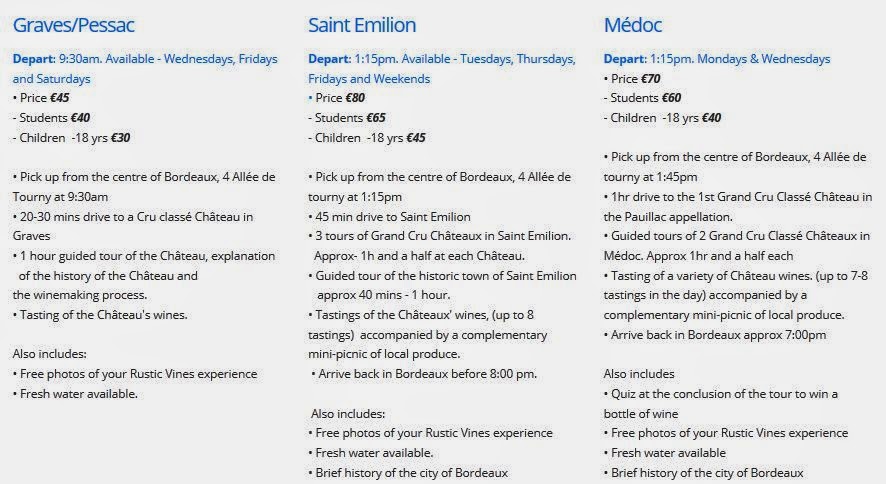 www.rusticvinestours.com
www.facebook.com/rusticvinestours
https://twitter.com/rusticvines
Read more about Tim here.