Mike is originally from Sydney, Australia and has been living in Bordeaux for the past 10 years.
He originally started the Bordeaux Expats blog in 2010 as a hobby to complement his career as a Digital Marketing Specialist for an agency in the heart of the old city.
"When I arrived in Bordeaux there was next to nothing in the ways of English content online. So to help teach myself French I translated the content that I found regarding news & events on the Bordeaux Tourism website."
He has seen the best and worst of Bordeaux and is proud to call it home.
Here is a well overdue interview with an Australian that's still not quite French.
Where are you originally from?

The Northern Beaches of Sydney. Frenches Forest to be exact… go figure that I grew up in Frenches Forest and now live in France.
Did someone say ironic?
Where have you lived while you have been here?
I live in a town called Saint André de Cubzac, which is 30km to the North East of Bordeaux. It is an area which is great for folk with young families as there are all the mod-cons, not too far from Bordeaux (I suppose that may depend on who you talk), and property prices are around half of what you would expect to find in the city.
Also, I spent a few years in Lormont which is commune in greater Bordeaux. Lormont has always had a checkered past, with a lot of social housing and sometime problems with delinquency. My time there however was only every enriching, with a melting pot of cultures and a tight knit community making day to day living enjoyable. It was also a cheaper option in regarding to property, however as it is so easily accessible by tram house prices were already increasing back in 2012.
My first living experience in Bordeaux was in my then girl-friend's (now wife) apartment on the right side of the river in the Bastide (Thiers-Benauge to be exact). Once again, great option for being slightly outside the hub-bub but in spitting distance of Stalingrad and the river.
What can I say.. j'aime la rive droite.

How long have you lived in the region?
All my (French) life… I arrived in 2007 and I've been here since!
Why did you move to France and why did you choose Bordeaux?
I often say, "if you find an expat in Bordeaux, it's because they've hooked up with a Frenchie or got a great job".
In my case, I came for my wife who I met on holidays in Morocco. As she is from the region, it only made sense I pack-in my experience of living with 6 people in a share house in London and move to Bordeaux.

What do you wish you knew before moving here?

Obviously, the answer is going to be FRENCH! It was like turning up to a knife fight with a wooden spoon. I had taken a 7 week beginners French course in London, which basically taught me how to count to 10 and say my name. However, I found it very overwhelming jumping in to French life without any Anglo outlets. Only some of my wife's friends and family were fluent in pigeon English and the rest of the time I sat out of the conversation.
In looking back now, regardless of the fact that communication was difficult, it was by far the best means to integrate into French society and learn the language.
It is absolutely normal that when you arrive in a country that you must learn the language. It's more than fair…
Did you find it easy finding accommodation when you first moved here?

I swanned into town with a loving girlfriend taking care of that…
However, I do now know how tiresome the French bureaucracy of finding and landing an apartment can be for people. Not only is it a buyers market (first come isn't always first served), there are rain forests that are felled in order to create all the paper that is required to sign an apartment for rent. Not to mention that full time employment contracts (CDI) are usually required, along with needing to secure a guarantor on the lease.

What do you do for a living?

I'm currently at the head of a 10 person team for a international digital agency in Bordeaux. I specialise in web marketing and digital project management, along with account management, international sales and anything else you can think on that side of a communications business. I love my profession and I'm extremely passionate for all things web.
Was it easy finding work?

It was easy finding work if you don't mind doing jobs you may not usually do.
One of my first jobs was working in a pub where I was told I was going to be washing the dishes and on my first night I found myself cooking for 130 people. Pretty funny for a guy that burns water. From there, I have done a range of things such as standing at tram stops handing out newspapers to thankless and thankful people in snowy/rainy/sunny weather. I've letter box dropped, Tutored English, provided voice-overs for animations and even was a cosmetic product tester (aka: guinea pig).
"When you have to work, best not be fussy."
Has it been easy meeting people?
Yes and no.
I mentioned early that I found myself in a French bubble and due to the language barrier it was difficult finding people patient enough to hack it out with me and my French gibberish. Making French friends didn't really come to until a few years after I arrived where I could hold a semi decent conversation. I now can firmly say that some of my closest friends are French and I never like hearing Anglo folk say "French can be so arrogant". For me this indicates one thing, they don't really know French people but have just visited Paris where they were insulted by a waiter in Saint Germain.
Meeting Anglo people is rather easy as you really just need to head to a pub. That being said and done, I enjoyed this in my first few years to get my English fix but as I was probably growing more away from the Thursday student flaming sambuca shots in the mouth nights, to a life where I take pride in growing my own tomatoes.
Now, there are many channels open up to Anglo orientated businesses/groups to meet and network (check out this must read article for new comers wanting to network in Bordeaux – written by my wordsmith Bordeaux Expats co-author Chris Tighe). Something that I haven't been really able to participate in the past years as I now have 3 kids all under the age of six.
Free time is something I hear about. believe I remember what it is, and then forget because the 3hr daily commute, 35++ working week and 3 Franco-Australien kids pretty much fills up my entire existence.
However, if you hear of any events going down drop me a line as I would be happy to attend!
Did you already know French?
See my rant above.
I really didn't speak a word before arriving. It never interested me to learn a new language, and now even though I probably sound like a chainsaw playing a cello to my French colleagues, I do alright.
If you don't speak French, a language school is a very good option.
The private schools are well reputed but come with a price tag. These are probably the most evident and easy option if you have the cash.
I was lucky enough to be taken into a program run by the government to assist with foreigners learning French and integrating into France.
Once again, no chance of speaking English here but a lot of sign language and great interesting groups of many different nationalities. As formations such is this are usually reserved for foreigners fleeing to France, I felt very lucky to have been included in a group of people really making a go of it rather than people just visiting on a gap year.
These links maybe useful however as it has been 10 years since I participated in these courses I can not confirm if the information is correct:

How do you find the cost of living/lifestyle in Bordeaux?
The cost of living is relative affordable. If we talk about your normal day to day expenses it's quite reasonable.
However, if you are looking at living the hyper centre you'll pay more on accommodation. Even the outer areas now are inflated with only select pockets still reasonably priced.
However, if you compare it to larger cities such as Paris, London or Sydney it falls well below in the price range.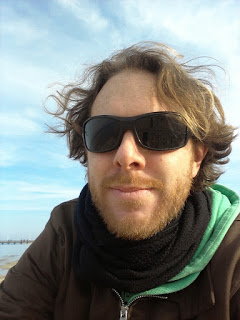 What's the best thing to do in Bordeaux on a summers day?
If I'm in Bordeaux, I'll probably take the family to either to miroir d'eau if I don't mind the crowds. More than likely, we would give that a miss and head over to the Darwin Centre or chill out in the park on the Quai des Queyries.
If I'm at home, I may load up the tribe and go for a hike around the area. Around us it is really untouched wine country, with stacks of magnificent chateaux and walking tracks.
I would love to say that I would head to the coast, but we live on the wrong side of the rocade and for me spending 2hrs in traffic isn't what we would call living 'close to the beach'.  I grew up in an area in Sydney where if you couldn't smell the salt breeze in the morning you lived too far away.
I figure I must be a country fella now.
What's the best thing to do in Bordeaux on a rainy day?
Grab a coffee at the Les Freres Cailloux on Place du Palais and watch the world go by.
Either that or a pint and a burger at the Sweeny Todd's and watch the world go by.
What are the positives of living here?
The city itself is charming and has amazing history (Invisible Bordeaux is a must for curiosities), everything in the centre is very accessible via the tram or on foot. If you are visiting for the first time, be sure to drop Tim from Rustic Vines Tours a line to organise a guided bike tour.
Overall Bordeaux is dynamic and full of possibility with the a great balance of being France's biggest manageable size city.

What are the negatives of living here?
Probably the Parisians that are about to invade with the opening of the new TGV. 🙂
Just remember, it is called a 'chocolatine' and not 'pain au chocolat'.

Are you involved with any groups / associations / teams, etc?
I did play 1/2 a season with the Australian Football team the Bordeaux Bombers. However, I stopped as I 'pulled a heart muscle' as we say in Oz.
Once again… spare time you say?