From the first notes of their new album, the Australian duo transports us instantly on an enchanting journey.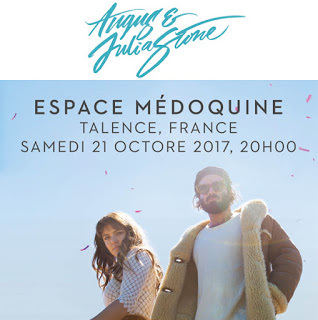 For this fourth album, the Sydneysiders, wrote each song together and made the record themselves: "It was quite magical because Angus and I had never spent so much time together, just the two of us".
"Snow is both of us," Angus says of the title track and first single from the fourth Angus & Julia Stone album. "We sat down and wrote it together."
In that sense, the album continues a process the siblings began at the suggestion of producer Rick Rubin on their self-tilted album of 2014. "That was the first time that we actually started writing together, in the same room, and I guess we took a leaf from that chapter into this record. This time round though, every song on the record we wrote together" Angus says.
Plot-wise, SNOW is yet another confident advance on a story which now accounts for over half a million album sales in Angus & Julia's homeland of Australia alone. The Sydney-born siblings produced and largely engineered it themselves, in Angus's cottage studio, Belafonte, in the Byron Bay hinterland.
"It was quite magical because Angus and I have never spent that much time together, just the two of us," says Julia. "There's always at least an engineer or tour manager but the last phase of writing and recording was just eight weeks of him and me and the quiet of the land. It was a beautiful time."
The bliss rings like ripples in still water in the chiming depths of Chateau, a song of pure contentment in time and place. And it ticks like a rocking chair in the acoustic breeze of Nothing Else To Do. "There's nothing else to do here but fall into your arms," Angus and Julia sing in effortless harmony.
"It was one of those afternoons where I had an idea and I was just sitting out on the veranda, singing it to myself," Julia recalls. "Angus came out and started playing this old cigar bass, like the way we used to play before all of this happened: just two lazy kids who like to play music."
Since the duo began performing together in 2006, "all this" has happened with an almost magical magnetism that has galvanised the world. Their four albums have amassed multi-platinum sales and numerous ARIA and APRA awards at home, and won a fanbase of millions over spiralling tours of the UK, Europe and North America. The band have each month over 5 million listeners who tune in, to stream their music from all over the world.
Their quietly hypnotic songs have infiltrated film and TV from the recent woody Harrelson film 'The Edge of 17 ' to TV shows like Pretty Little Liars, Suits ' & 'Revenge'. They have cast their spell over the world's key festivals: Coachella, Lollapalooza, Bonnaroo, Outside Lands, Rochweichter, Hurricane, Austin City Limits ,Electric picnic, Splendour,,, The Great Escape.
It's no secret that these escalating demands nearly divided the duo into parallel solo careers in 2012, before Rick Rubin insisted they reunite for that self-titled album in Los Angeles. It naturally led to more laps of the world, and a new purpose and cohesion that flowed into early band sessions for SNOW.
"Something changed in us," says Angus. "A philosophy & a feeling… comes from just knowing the road better.
Like when you're playing, and you find that pocket in the music.
The reason you can stay in it, is when you accept you are just there, in it.
So, you learn to align that concept with how you move in the world."
As songwriters and performers, he continues " We've seen a lot of the same things but they come out of minds and hearts in different ways. We have united memories but different perceptions which makes creating together really interesting"
Julia adds, "We can be talking about the same thing, but how we talk about it, how we feel about it is different. I think that what makes it exciting for us to write together. There's a line that ties us.
Then there's the many different ways to talk about that line."
Cellar Door is a great example, with its title borrowed from the film Donnie Darko and its subject drawn from the intensely personal experience of the siblings' grandfather's funeral. On My House Your House, they find a call-and-response groove that paints a shared place viewed from different angles.
"There's a lot of this on there, where Angus would find the story in the verse and I would find it in the chorus and we find a way through because of each other," Julia says. "We have very different styles of writing but they seem to work together. In a way, it's the differences that make it sound the way it does."
"I never could have imagined that Angus and I would still be working together 10 years later — i feel pretty lucky we get to make music together. We've been through so much, so many shared experiences and memories."
As have so many others.
How do the expectations of millions feed into the process of creation when two grown-up kids from Sydney find themselves together on a farmhouse veranda under the summer stars?
"it's exciting to share new music with people for sure… but to be honest, it's not why I got into writing music," says Angus. "For me it's always just been an expression.. but it's a great feeling if people are digging it".
WHEN: Saturday, October 21, 2017,
WHERE: Espace Médoquine, Talence, Bordeaux
TICKETS: Here