Berit Simonsen left Denmark for France when she was 19 and instantly fell in love with French savoir-vivre and stayed for 28 years!
After 10+ enjoyable years teaching English in public schools, Berit trained as a business coach and did paid and pro bono coaching for business startups needing "last-minute" confidence. What could be more natural after moving to Bordeaux than to focus on her personal passion, wine? Berit worked for 5+ years in Bordeaux's famous châteaux in the three major wine districts: Saint-Julien (Medoc), Saint-Emilion/Pomerol and Graves, before starting to accompany visitors to the different vineyards. She found her "calling" in sharing her passion and knowledge with visitors.
Thanks to her experience, Berit has the "inside track" to the gems of Bordeaux wine country, both big and small properties. Her in-depth knowledge and fun facts about wine, combined with a friendly and "down-to-earth"-style puts her guests at ease, helping them to see the vineyards through her lens, and experience the savoir-vivre that she fell in love with. Berit's love for and knowledge of wine, and the need to share this with people through a memorable, personal experience gave birth to B for Bordeaux.
To change it up a bit, I went with a set of questions to best understand Berit Simonsen and 'B for Bordeaux'.
Savoir-vivre: What does that mean specifically, to you?
The French have an epicurean way of enjoying life. To me, it's all about the good food and the French cooking their meals from scratch with fresh produce. Even the younger generation with their busy lives, still go to the market to get seasonal stuff from the local producers. It's meeting for drinks under any/no pretext, at any hour, in bars and restaurants, often. It's doing what you want to do, when you want to, with not much fuss. I'm not sure that the French always know how cool, lucky and laid-back they seem to the rest of the world! 😊 It's living in the moment and not rushing, rushing all the time.
What brought about your interest in working with Bordeaux wines?
I'm almost ashamed to admit how little I knew about wine when I moved to Bordeaux in 2000. But you know, we live right in the middle of the legendary "Bordeaux" vineyards. After Paris, I thought a career shift to the wine business would be perfect. After a job interview in the very prestigious Chateau Latour, I learned quickly that I would need wine schooling. I signed up for night wine classes after work in a hurry! That's what ignited the whole wine passion and – later – a career in the chateaux. Best job ever!!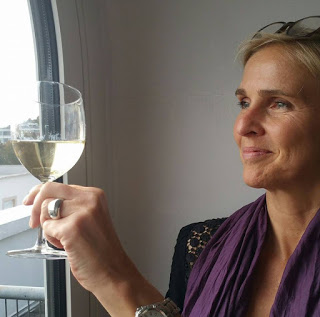 Fast forward 2018, what about Bordeaux attracts you the most?
When we moved, Bordeaux was nothing like Paris. Everything was run down. Beautiful 18th century buildings were disgracefully black from neglect and pollution. Under our noses, the city began a bold – and expensive – transformation. Facades were sandblasted, ugly warehouses along the docks were torn down, a sleek tramway was created, and, a beautiful promenade along the river was born. Bordeaux now stands like a lovely small-scale Paris with historic monuments, boutiques, bars and restaurants (lots of plazas) and it's very walkable. It's only an hour's drive from the Atlantic Ocean, local oyster farms, and two hours away from the mountains and Spain. Today, I have no regrets leaving Paris – at all!
What kind of work did you do at the vineyards? What made you decide to create B for Bordeaux?
There are about 10,000 chateaux producing wine in Bordeaux. The name is globally famous, and people have been attracted to Bordeaux wines for ages. However, 8-10 years ago, it was almost impossible to do a wine tour. Chateaux were reluctant to let visitors in, especially the prestigious Grand Cru Classé estates. Something needed to be done. I've been building up and/or facilitating wine tourism in the three chateaux I worked in. Making wine tours possible, making reluctant estates more approachable, and most importantly, making complicated wine information more comprehensible to visitors, is really what I'm doing with my own company "B for Bordeaux".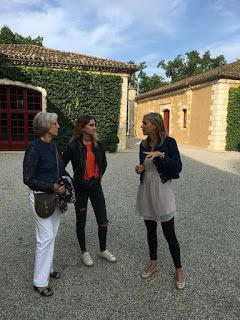 What's the most exciting thing in planning these tours?
Listening to what people want and then setting up their perfect tour. There are legendary and prestigious chateaux, but also small individual producers in Bordeaux; historic and beautiful buildings, but also old, dark and moldy cellars with just one brave man doing all the work. There's traditional viticulture, there's organic, or even biodynamic viticulture in the region. Ideally, I like to show people all sides of Bordeaux winemaking, but my tours are tailormade. So, if guests want "bling" for 3 days, we do Grand Cru Classé chateaux nonstop; or "all green", we do a 100% organic tour. Both are great! There is so much to discover in Bordeaux! I love giving people the tour of their dreams.
How do your tours work?
I plan the entire tour (one or several days) based on my clients' requests and pick them up at their hotel. We then spend the day(s) together in the vineyards. I suggest a great restaurant in one of the wine regions to fit their taste and budget. Unless people are well informed about Bordeaux beforehand (or are jetlagged and just wish to sleep 😊), I give them background info on Bordeaux on the way to the chateaux. In my experience, people in the chateaux tend to talk to visitors as if they are knowledgeable about wine and Bordeaux. So, I make sure throughout the day, that they are comfortable with all that they hear and see. No such thing as a silly question!
How can people get in touch with you?
The best way to get in touch with me is email (bforbordeaux@gmail.com) and tell me about yourself and what you expect from a wine tour. You can also check my homepage (www.bforbordeaux.com) and fill the contact form. To speak with me directly, please call + 33 6 01 96 01 37. I look forward to it.
Outside of wine tours, what do you enjoy doing?
You'll think that I'm a complete wine nerd, but I enjoy wine tastings as a hobby – there's plenty of that. Thankfully you spit a lot of wine, my liver is still doing fine 😉. I love food and we are lucky to have several great restaurants in Bordeaux just waiting to be "discovered" (so much hard work!). I do yoga and am thinking about organizing sessions with an instructor in the vineyards.
Do you still coach?
Once a coach, always a coach. I use coaching tools in my everyday life, not consciously 😉 I haven't had much time to coach for the past 7-8 years, but I would like to pick it up again in the low season. It's such a great way for people to get to a better place in very few sessions, and I think that Bordeaux is finally ready to embrace coaching (it seemed a little "un-French" or "smart" 7-8 years ago).
Berit Simonsen 'B' for Bordeaux
Private Wine Tours | Tours Privés dans le vignoble
+33 (0) 601 960 137
www.bforbordeaux.com