In an age of consumerism and throw away culture, a new breed of small artisans are taking root to defend and promote quality handmade furniture that will last for generations. One such company based in the beautiful vineyard surrounded town of Bordeaux, is Goat Lab Furniture.
Owned and run by Mayuka, a Sri Lankan born, London raised Genetics graduate, who decided change his career and put his hand to designing and hand crafting made to measure furniture. We talked to him about his new world of wood and sawdust and why he thinks handmade is better than mass produced.
Why do you think there has been a growing interest in artisanal handmade furniture recently?
I think first and foremost, people are witnessing a natural world under threat from human activity like never before in history. We are now very aware that our actions and habits, the way we decide live our lives, has a direct impact on the future of our planet, no matter how small we may think those actions may be. I don't think this was the case a few generations ago, and as one of the results of this new way of thinking I can see people beginning to reuse, refurbish old items and of course shun away from mass production for more personal, better quality items that can be enjoyed for generations.
How do you run a business in a sustainable way when your main raw material is wood?
When I first became interested in furniture making whilst spending some time living in south Asia, I always told myself that I do not want to be partly responsible for the deforestation of natural hardwood forests.
I always tried to source my wood from sellers who could prove that the wood was farmed, however due to regulations that were not so strict it was not always an easy task in Sri Lanka. In France however, I source all of my wood from PEFC certified sellers where the wood is tracked and come from sustainable sources. The Oak, Pine, Ash and walnut wood that I use are all grown in France for commercial use, once the trees are harvested each year they are re-grown and the process continues. I also use a lot of reclaimed wood that people generally do not need any more or originates from previous buildings/furniture.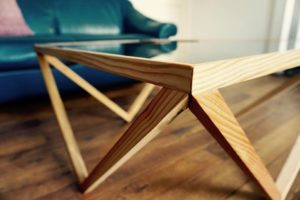 What kind of clients are most interested in handmade furniture?
Living in Bordeaux, I have clients from many walks of life and most people share their enthusiasm for local artisans. I have worked with locals and expats (my English helps), interior designers from around France and commercial clients.
The most important aspect for all clients, from my experience, is to ensure the final product matches their expectations. I try to achieve this by visiting my clients, looking at the space and try to get a detailed idea of their taste in interior design. This is not always an easy task as many people are not entirely sure themselves!
I find that the best way to achieve this is to try and find out more about the tastes of the clients, what kind of materials they like having in their homes, how will the item be used, who will be using the item and so forth.
People who look to buy handmade furniture are generally looking for something unique, the items that I make, whether they are one-off pieces of batch, all have unique characteristics. The other requirement would be craftsmanship, probably the single most important factor behind the rise in popularity of bespoke furniture.
When you buy a piece of furniture for your home or business, you want it to look great and be made in a high quality way, these are the fundamentals for when I am making my items. I would never sell a sub-standard piece of furniture because it is not a fair way of trading, and it would reflect badly on me and my company.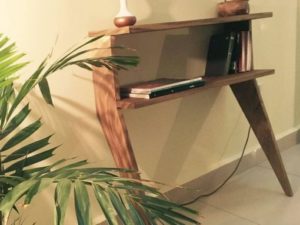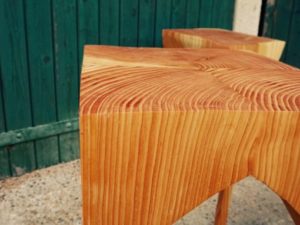 How did you end up going from such a scientific background to something so completely different?
I'm not completely sure of all the details myself!
Things have just seemed to flow since I started. I was running a cancer trial for Imperial College London and before that for other Universities, after many years in this field I felt that I needed to explore other possibilities, try to develop other skills that I had long forgotten about.
Looking back now to my school days, I always remember enjoying the creative and building aspects of my time there. Having being lucky enough to attend an excellent school that provided lessons in product design, electronics, making items using CAD, as well as wood working techniques; I felt a growing desire to change the course of my professional life and get back to what I loved most designing and making things.
My wife and I decided to live in Asia for a few years, do some travelling and experience some of the different flavours of life on the other side of the world. I started an internship in Sri Lanka for a furniture company, after which I started my own company: Goat Lab Furniture. I found there is a renewed interest in quality handmade furniture in Sri Lanka too.
A few years later we decided to come and live in my wife's home town of Bordeaux and the rest, as they say is history. I have to say, I can't imagine a better place to live and work. Learning the language continues and probably will for the foreseeable future, but having joined the Pepiniere D'Entreprise in Floirac has been a true blessing. I am working with some very talented artisans and professionals who have been a joy to work with. I have since honed my skills as an Ebeniste by doing some professional furniture making courses in England.
How would customers find made to measure furniture makers in the internet age?
I think in the pre-internet age, consumers trends tended to emanate from film, TV, the press and magazines, today you can do a quick hashtag search on most social media platforms – Instagram and Pinterest are the first that come to mind for interior design and furniture. It is sometimes difficult for smaller creators such as myself to land on the first page of google because larger corporations are big spenders for marketing online,, especially on Google AdWords.
Although it may take a little longer, I would highly recommend doing a little digging for a local artisan, look out for flyers at your local boulangerie, do a google map search for an 'ebeniste' or 'meuble sur mesure', check out the local markets or ask your friends and family for recommendations. There are also local incubators where artisans work together, for example the pépinière d'entreprise at the Hauts de Garonne Développement.
Contact details for your local, friendly furniture maker: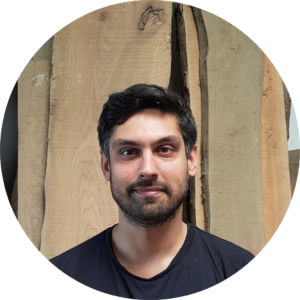 Tel: 0629275643