It's approaching 7 months since my arrival in France and I still cannot pronounce Bordeaux like a local. Nor could I correctly tell you the difference between the verbs savoir and cônnaitre.
The number of times I have used the phrase le français est très difficile or pardon, mon français est pas bon: innumerable. Despite this, I am loving life and have become obsessed with this stunning and historic city.
By Nikesh Gounden – @keshyyyy
I decided to make the move to France after 2 years of French at university which yielded remarkably poor progress. It's comforting to know that this seems to be the case with all university students studying a language in a non-native environment.
It didn't make sense for me to continue studying the French language in my hometown of Brisbane, Australia. I had also decided to pursue a career in footwear design and there are a ton of great footwear labels coming out of France at the moment: Veja, Zespa, Garconne et Cherubin etc.
I had seen Bordeaux claim Lonely Planet's top destination of 2017 and the more I talked to French people, the more it seemed like a great place to live.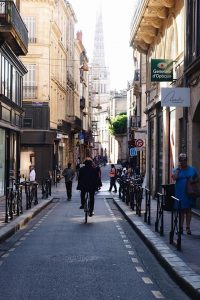 I acquired a working holiday visa and off I set. I was initially working at Hostel 20 in Chartrons. It was a terrific way to integrate into the city and form new friends but my language skills were not improving as the majority of guests wee from the UK, America, Canada and Australia.
The period after my departure from the hostel was tumultuous. Finding accommodation and work proved to be extremely tough, resulting in burning through a good portion of the funds I had saved to travel at the end of my stay.
During this period, I endeavoured to discover Bordeaux's best boulangeries and all that the city had to offer. It was a decision that would later reap benefits as you will soon find out. Eventually I found work with some English speaking agencies and I had a bit of success buying and selling shoes I had found in Bordeaux's impressive second-hand clothing scene.
Finally, I found a colocation in the apartment of an angelic French lady who now endearingly refers to me as her 'Australian son'. During my interview for the apartment, we got along exceptionally well, however she offered the room to another candidate due to the brevity of my intended stay. A week later, however, she messaged me saying that she would like to offer me her daughter's room who now works in Paris. I gleefully accepted and have been residing here for 5 months now.
Her mother is a meat connoisseur who drives 50 km out of Bordeaux once a week to pick up her meat from an organic farm which she later prepares for the family's Sunday dinner. This has translated into me being the lucky recipient of a traditional French meal cooked with the finest cuts of meat every Monday. What is more, I have been offered the keys to her holiday house in Spain. When I go to Paris, I stay in her daughter's apartment. It is not a bad gig at all. I found a gem in this lady and have learnt so much about the French language and culture from her.
Fast forward to mid February and after complaining to my girlfriend about not earning enough, she suggested that I start a boulangerie tour since I am obsessed with pastries and have previously written for food blogs. And thus "Bordeaux's Best Bakeries + History Tour" was born!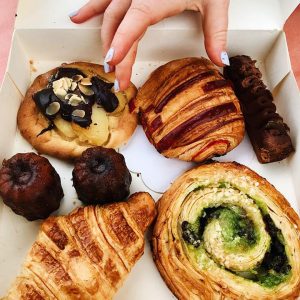 I created the tour on Airbnb a little over one month ago and it's been fantastic. I have received excellent feedback and more importantly, I love it! I take tourists to the best boulangeries in Bordeaux which are conveniently located in different, vibrant neighbourhoods. I offer recommendations, describe the pastries, teach them how to order in French and divulge Bordeaux's rich history while I am at it. I am legitimately excited to go to my job. I think in a few weeks, my French will be good enough to offer the tour in French.
When guests ask me what my favourite thing about Bordeaux is, I reply " I love the size of the city". Everywhere in central Bordeaux is accessible by bike within 25 minutes max yet the city isn't small enough to be boring. I am constantly discovering new bars, eateries and parks. The people are friendly, the rent is reasonable, the city is beautiful and the winters here are mild in comparison with the rest of Europe. Paris is 2 hours away on a train, the largest sand dune in Europe is just over an hour away, medieval wine towns such as Saint-Emilion are a stone's throw away and you have Biarritz two and a half hours to the South. I haven't heard one person speak poorly of Bordeaux.
There are a few pieces of advice I would give to those trying to tackle the French language.
Independent study – While living in France is certainly going to expose you to conversational French and the nuances of the language, I think it's important to consolidate your learning with independent study. Studying the grammar through textbooks has made a huge difference to my writing and reading ability and it is quite motivating when you know that your study has an immediate, practical use.
Eavesdrop – I have stopped listening to music on trams and when in public spaces because eavesdropping is fantastic for picking up conversational phrases.
Watch TV / French films – At first this can be very depressing as the speed of French on TV is très difficile to follow, even for experienced French learners. Little by little, you will attune your ears to pick up words and your listening ability will improve dramatically.
Read – Reading French texts, whether it be books, magazines or online publications, is excellent for your comprehension skills. Every time I read, I sit with google translate open and and I learn a stack of new vocabulary.
I hope that this insight into my life in Bordeaux has inspired you to discover Bordeaux and persist with French or that it was, at the very least, a good read.
Mention this article in a message when you book my tour on Airbnb and the first pastry is on me!
To make a reservation, click here.