V3 Velo – Bike Hire in Bordeaux
14/04/2010

The Atlantic Derby – Rugby
16/04/2010
This Friday night is the fisrt birthday of L'Incontournable bar and cafe. Is it already 12 months since the old 'Eat & Soul' changed names?!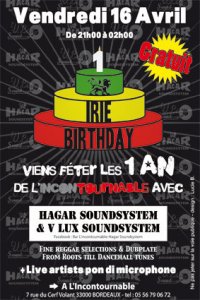 Anyway, tomorrow is Hagar Soundsystem & V Lux Soundsystem going at it with live MC's taking the mic in hand. Should be a bit of reggae goodness…
When: Friday 16 April
Where: Bar L'INCONTOURNABLE, 7 rue du cerf-volant, Bordeaux
Price: Free!