GIG PICK OF THE WEEKEND
Formed in 1992 (until 2002), the Kargol's will have cemented their place in the French ska movement by amalgamating their music with blends of rock and hardcore (Ska-Core). Drawing similarities to Fishbone and the Bad Brains, they are the French heavy weights in this genre.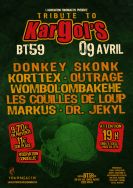 This Friday, several influential French bands will pay homage to Kargol (originally from Perpignan), by getting together for a resurrection of Kargol's music.
When: Friday 9th April @ 7pm
Where: BT 59, Bordeaux
Cost: €11
Venue: BT 59
www.myspace.com/kargols
www.myspace.com/donkeyskonk
www.myspace.com/korttex