This Thursday 27th May there will be a benifit concert held in support of the NGO Nepalise Rural Development Forum.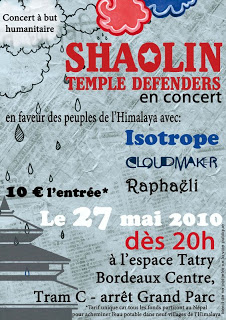 The money collected will make it possible to partly finance, the transfer of clean drinking water to 9 villages in the Himalayas which are located at around 60km from Kathmandu. Nestled between India and China on the rooftop of the world, Nepal is one of the poorest countries in the world. Although the villages are mainly self-sufficing their resources are increasingly limited.
In addition, with the increase of temperatures due to global warming, water sources are drying up with villagers having to walk hours every day to fetch water.
The O.N.G. Rural Development Forum is made up from Nepalese members only. The association Lumières du Népal, based in Ludon-Medoc, is activily and independantly taking action in the support of social, educational and medical assistance in Nepal.
The gig will bring together:
Shaolin Temple Defenders (Funk/Soul) … aptly named?!
Isotrope (Funk/Rock/Fusion)
Cloudmaker (Prog Rock)
Raphaeli (Ragga/Dancehall)
When: Thursday; 27th May 2010 @ 8pm
Where: l'espace Tatry, 170 Cours du Médoc, 7 galerie Tatry, Bordeaux
Cost: €10
Merci à http://www.dunboutalautre.over-blog.net/ pour l'info.
www.myspace.com/espacetatry33
http://www.shaolintempledefenders.net/
www.myspace.com/isotrope
www.myspace.com/cloudmakerspace
www.myspace.com/anthonyrootsboy