Jazz and Blues of Léognan is an association of vounteers who are passionate and dedicated to the bring jazz and blues music to the area of Léognan (17km from Bordeaux) and the surrounding areas of Bordeaux.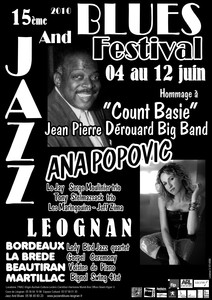 Jazz and Blues was founded in 1992, by the meeting of ex-Hot Club member and local 'jazzman', Jacques Merle and Didier Séris the then chairman of the Festival Committee of Léognan. The idea was launched and the association was born in July, 1993.
The principal activities is for the promotion of Jazz and the Blues through concerts, festivals & "Faces of the Jazz" photography expositions by Jacques Merle.
The first edition of the Jazz and Blues Festival was back in 1996 and this year they have a bumper crop of talent coming your way.
When: 4th until 12th June, 2010
Where: Bordeaux, Léognan and surrounding area
Cost: Check program for pricing