Being an expat in Bordeaux you most likely will have found yourself in the Frog and Rosbif Pub one time or another… whether it be their choice of house brewed beers, to catch a match or even just to have a yarn with a fellow traveller.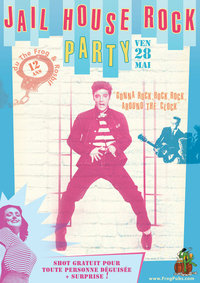 Toulousain event poster with different date.
"Housed in a former women's prison built in the 16th century, The Frog & Rosbif is the only pub in Bordeaux brewing its own beers. Hops and malt are shipped in from England and brewed in the middle of this magnificent stone building."
This Friday night will be a reason to celebrate as the Frog is turning ten! As per their usual custom of dress up parties, this one is going to be themed as a 'Jail House Rock' night (i.e: dress like a prisoner, Elvis, OJ Simpson, etc).
When: Friday, 4th June 2010 @ 5.30pm
Where: The Frog & Rosbif, 23 Rue Ausone, 33000 Bordeaux
Cost: Free entry, buy your own beer and food