The 31st edition of Soöruz Lacanau Pro is scheduled to go down from August 12th to 22nd on the South West coast of France. The world's elite will once again be there for this important leg of the world tour, meaning 10 days of shred theatre with the planet's surf gods. Talented musicians will also be present through out the competition allowing you to enjoy some sweet music while watching the riders.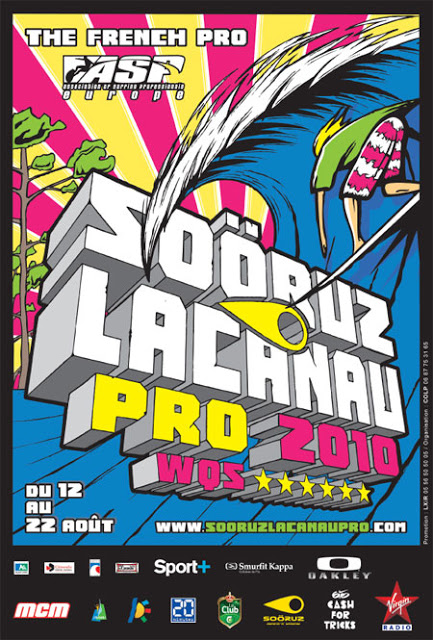 Starting off will be the Oakley Pro Junior, from August 13th to 16th , for the under 21. They'll not only be competing for the Junior World Championship but also for the Wild Card which will allow them to access Soöruz Lacanau Pro's final score board, and mean going against the world's best surfers.
At the same time, 13th to 16th, some of the best female surfers will be competing against each other for the Girls Oakley Pro Junior trophy.
A new addition will also be introduced this year – during expression sessions, Nike 6.0 Cash for Tricks will directly reward surfers who give the most impressive surfing performances with €10,000 prize money in cash !
As usual, the Lacanau Beach seaside resort will beat to the rhythm of surfing in a lively village full of activities with live concerts put on every night and parties organized in local Lacanau clubs.
Local support will be high, hoping to follow on the fine form from last years winner Joan Duru (Duru being the first Frenchman in 27 years to win at Lacanau).
When: 12th to 22nd August, 2010
Where: Lacanau Beach, 33680
Cost: Free!

More Surfing Videos >>