Since the mid 90's Glasgow's own sonic supersuckers have been spreading their significant stupefying sounds across the seas (bloody lot of S's…).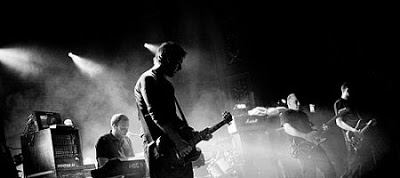 Indeed MOGWAÏ have built a weighty name for themselves playing their brand of post-indie blend to those of us that love to have our ears bleed.


The band started out in Glasgow in 1996 by Stuart Braithwaite (guitar/vocals), Dominic Aitchison (bass) and Martin Bulloch (drums). Soon after John Cummings was added as another guitarist driving at churning out some "serious guitar music".
With drummer Brendon O'Hare (of Teenage Funclub and Telstar Ponies fame) replacing Bulloch, and the addition of new member Barry Burns (flute, keyboards), Mogwai recorded their proper debut album, Young Team (Chemikal Underground, 1997), an even more experimental work with psychedelic and space-rock influence.
This year see MOGWAÏ release their seventh studio album, 'Hardcore Will Never Die, But You Will', which was recorded over the at Chem 19 Studios, in Hamilton and mixed at The Castle Of Doom. 'Hardcore' is produced by Mogwai confidante Paul Savage (the man behind Mogwai's exceptional 1997 'Mogwai Young Team' album) and is the follow up to 2008's magnum opus 'The Hawk Is Howling'.
The band will be touring extensively thist year, with shows across Scotland, Ireland, the UK, Europe, the US and Japan.
When: Thursday 24th March, 2011 @ 8pm
Where: Rockschool Barbey, 18 Cours Barbey, 33800 Bordeaux
Cost: €23.80 – get tickets here!